Silence Anti Snoring Spray
Silence, the safe and effective anti-snoring remedy During deep sleep, the muscles in the body relax - also those in the throat, which results in a partial closure of the respiratory tract. This is normal.
However, if the air flow in the throat and the nose is obstructed, this leads to snoring: the fluttering sound created by the vibrations of tissues against each other in the throat and the nose.
The effectiveness of Silence against snoring is scientifically proven and there are no adverse side effects.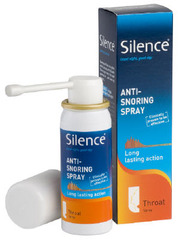 Specials are for online purchases only, don't miss out! -
Email
us to check for availability.
Silence has the form of a foam that is deposited on the throat tissue by an aerosol. This foam covers the throat tissue like a film, thus preventing the tissue from vibrating. This foam contains carraghenans, a natural plant extract which ensures that the spray stays in place on the throat tissue throughout the night, despite the constant renewing of mucus and even when swallowing. The bio-adhesion is eight to ten times higher than that of the traditional products. The ingredients in the Silence formula lubricate the throat tissue throughout the night, thus avoiding tissue vibration.Silence also contains cynorrhodon, whose tonifying and astringent properties positively impact the throat tissue, and thus help to decrease the snoring level.
At bedtime, shake the can vigorously. First, spray the back of the throat well for 1 second. Swallow. Then spray a second time for 1 second. Swallow again. For use by adults only.
Active Ingredients: Phosphatidylcholine (plant extract), glycerine, carrageenans, Rosa canina (dry extract, Rose hip), sucralose, sodium methyl parahydroxybenzoate, sodium propyl parahydroxybezoate, citric acid, mint flavour, water, propellant gas:1,1,1,2-tetrafluoroethane.
SILENCE acts on the noise of snoring and does not constitute a treatment for sleep apnoea.In case of doubt, consult your doctor.Do not use if allergic to any of the components.If pregnant, consult your doctor before use.Not suitable for asthmatics.