Solgar Brewers Yeast Powder 400g V
Natural nutritional support B vitamins, amino acids & minerals Premium natural source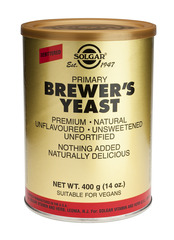 Specials are for online purchases only, don't miss out! -
Email
us to check for availability.
Brewers Yeast powder is a natural source of nutrients including B vitamins, amino acids and minerals. It can be taken daily for general nutritional support and may be added to food or drink. Solgar Brewers Yeast Powder is a premium natural source, debittered, unflavoured and unsweetened.
As a food supplement for adults, two (2) tablespoons daily. May be sprinkled on cereals, salads or incorporated into stews, soups, sauces, gravies, juices or baked goods. Servings per container: approximately 15 Always read the label and use as directed. Vitamins are supplementary to a balanced diet. If symptoms persist consult your healthcare professional. TAPS PP5354
Two (2) tablespoons (approx. 30g) provide: Amount Per Serving Calories 100 Total Fat <1g Sodium 54mg Total Carbohydrate 11g Dietary Fiber 6g Protein 15g ADDITIONAL NUTRIENTS: thiamine 1 mg, riboflavin 2 mg, niacin 10 mg, vitamin B6 0.8 mg, folic acid 60 ug, vitamin B12 0.3 ug, biotin 15 ug, pantothenic acid 0.6 mg, calcium 35 mg, iron 1.8 mg, phosphorus 20 mg, magnesium 32 mg, zinc 1.5 mg, selenium 63 ug, copper 1 mg, chromium 186 ug, potassium 633 mg, PABA 0.8 mg, Choline 126mg, inositol 101 mg, RNA/DNA 2 g, alanine 1216 mg, arginine 784 mg, aspartic acid 1760 mg, cystine 99 mg, glutamic acid 2720 mg, glycine 816 mg, histidine 416 mg, isoleucine 816 mg, leucine 1216 mg, lysine 1328 mg, methionine 272 mg, phenylalanine 768 mg, proline 512 mg, serine 896 mg, threonine 800 mg, tryptophan 240 mg, tyrosine 496 mg, valine 976 mg.
If you are pregnant, nursing, taking medication, or have a medical condition, consult your healthcare provider before taking this product. Always read the label and use as directed. All Solgar dietary supplements are supplementary to, and not a replacement for a balanced diet. If symptoms persist consult your healthcare professional. TAPS PP8189