Solgar Chelated Calcium Magnesium 1:1 120's
Cardiovascular function Muscle & nerve nutrients Bone health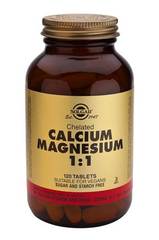 Specials are for online purchases only, don't miss out! -
Email
us to check for availability.
Solgar Chelated Calcium Magnesium 1:1 is containing equal amounts of Calcium and Magnesium for optimal health benefits of both these essential minerals. Calcium and magnesium work together in the body for healthy cardiovascular and nervous system function, muscle contraction and relaxation, and to maintain strong bones. Magnesium facilitates Calcium uptake and ensures proper bone mineralisation. Chelated forms of these minerals ensures optimal absorption for maximum benefits.
As a food supplement for adults, four (4) tablets daily, preferably at mealtime, or as directed by a healthcare practitioner. Always read the label and use as directed. Vitamins are supplementary to a balanced diet. If symptoms persist consult your healthcare professional. TAPS PP5354
Four (4) tablets provide: Calcium (as amino acid chelate+, carbonate, citrate+) 500mg Magnesium (as amino acid chelate+, oxide, citrate+) 500mg Fully reacted chelates Albion process patent Chelazomes. Tableted with this natural ingredient: microcrystalline cellulose, hydroxypropyl cellulose, cellulose gum, rice flour, citric acid, silicon dioxide, magnesium stearate, hydroxypropylmethyl cellulose, titanium dioxide, vegetable glycerin.
Take at least 2 hours away from medications. If you are pregnant, nursing, taking medication, or have a medical condition, consult your healthcare provider before taking this product. Always read the label and use as directed. All Solgar dietary supplements are supplementary to, and not a replacement for a balanced diet. If symptoms persist consult your healthcare professional. TAPS PP8189