Solgar Maximised Caprylic Acid 100's
Digestive balance Supports healthy microflora balance Naturally derived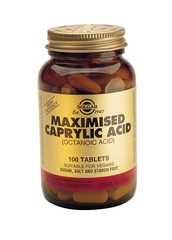 Specials are for online purchases only, don't miss out! -
Email
us to check for availability.
Solgar Maximised Caprylic Acid is naturally derived from coconut and palm oils and is used to restore balanced microflora in the digestive system, and is of particular support for yeast or fungal balance.
As a food supplement for adults one (1) to two (2) tablets daily, preferably at mealtime, or as directed by a healthcare practitioner. Always read the label and use as directed. Vitamins are supplementary to a balanced diet. If symptoms persist consult your healthcare professional. TAPS PP5354
Each tablet provides: Caprylic Acid(as calcium, magnesium, potassium and zinc caprylates) 365mg Tableted with these natural ingredients: microcrystalline cellulose, hydroxypropyl cellulose, cellulose gum, silicon dioxide, magnesium stearate, hydroxypropylmethyl cellulose, vegetable glycerin. Solgar Maximised Caprylic Acid Tablets provide an advanced, high potency source of caprylic acid in a special calcium/magnesium/potassium/zinc matrix. Solgar manufacturing process provides for the optimum absorption of Caprylic Acid in the digestive tract.
Not suitable during pregnancy or breastfeeding unless under advice of a healthcare professional. If you are pregnant, nursing, taking medication, or have a medical condition, consult your healthcare provider before taking this product. Always read the label and use as directed. All Solgar dietary supplements are supplementary to, and not a replacement for a balanced diet. If symptoms persist consult your healthcare professional. TAPS PP8189