Solgar Wild Alaskan Salmon Omega 120's
Wild Alaskan Full Spectrum Omega is a premium blend of sockeye salmon oil, vitamin D3 and astaxanthin tested for optimum purity and potency. Two softgels provide 2400mg of pure, Wild Alaskan salmon oil (supplying 225mg of EPA and 200mg of DHA) derived from sustainable caught fish from the pristine, cold waters of Alaska.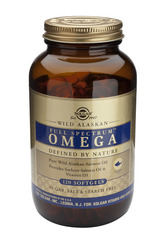 Specials are for online purchases only, don't miss out! -
Email
us to check for availability.
Wild Alaskan sockeye salmon is one of the richest and most beneficial sources of the important omega-3 fatty acids, EPA & DHA, which makes it unique among high-protein foods. Its natural oil is among the purest of all ocean fish. Much research supports the positive roles that fish oil plays in supporting cardiovascular and circulatory health. Studies have shown that fish oil supplements containing EPA and DHA can support triglyceride health by helping to maintain triglyceride levels already within a normal range. research also indicates that fish oil helps promote cognitive health.
Take as directed. Always read the label and use as directed. Vitamins are supplementary to a balanced diet. If symptoms persist consult your healthcare professional. TAPS PP5354
If you are pregnant, nursing, taking medication, or have a medical condition, consult your healthcare provider before taking this product. Always read the label and use as directed. All Solgar dietary supplements are supplementary to, and not a replacement for a balanced diet. If symptoms persist consult your healthcare professional. TAPS PP8189