Swisse Mens Ultivite 120 tablets
Swisse Men's Ultivite is a powerful mineral and antioxidant formula with herbs to help relieve tiredness and stress and increase levels of stamina and wellbeing. The Swisse formulas always incorporate up-to-date scientific findings, which is a reflection of Swisse's commitment to remain at the forefront of new research and benchmark standards. Men's Ultivite is based on over 20 years of worldwide research and contains scientifically validated ingredients and dosages.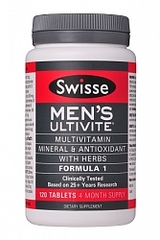 Specials are for online purchases only, don't miss out! -
Email
us to check for availability.
Swisse Ultivites use naturally sourced, water soluble nutrients that are effectively absorbed and retained by the body. More than ever, local and global research shows that men have deficiencies in nutrients including calcium, zinc, and magnesium, as well as Vitamins A, B and C. These nutrients are vital for strong bones, healthy nervous system, good skin and eyesight, and general wellbeing.

Swisse Ultivite are one of the only multivitamin antioxidant formulae in the world that have passed the test of a lengthy double blind, placebo controlled clinical study and showed to deliver therapeutic benefits. Increased stamina, lower stress level, relief from symptoms of nervous tension and a feeling of wellbeing are the real benefits that consumers report.
Adults Only:

One tablet daily during or immediately after a meal or as directed by a health care professional.
Each Tablet Contains:

Standardised Dunaliella salina Extract Equiv. Fresh Cell (Equiv. Carotenoids Calculated As Betacarotene 5Mg) 120 Mg, Standardised Vitis vinifera (Grape Seed) Extract Equiv. Dry Seed (Equiv. Procyanidins 7.09 Mg) 1000Mg, Cholecalciferol (Vitamin D3) 5 Mcg D-Alpha-Tocopheryl Acid Succinate (Vitamin E) 41.33 Mg, Thiamine Hydrochloride (Vitamin B1) 30 Mg, Riboflavine (Vitamin B2) 30 Mg, Nicotinamide (Vitamin B3) 30 Mg, Calcium Pantothenate (Vitamin B5) Equiv. Pantothenic Acid 64.13Mg 70 Mg, Pyridoxine Hydrochloride (Vitamin B6) 30 Mg, Cyanocobalamin (Vitamin B12) 30 Mcg, Biotin 50 Mcg, Folic Acid 500 Mcg, Calcium Ascorbate Dihydrate (Equiv. Ascorbic Acid (Vitamin C) 165.2 Mg) 200 Mg, Choline Bitartrate 25 Mg, Inositol 25 Mg, Bioflavonoids 40 Mg, Lysine Hydrochloride 50 Mg, Tyrosine 1 Mg, Calcium Citrate (Equiv. Calcium 21 Mg) 100 Mg, Magnesium Oxide - Heavy (Equiv. Magnesium 55.48 Mg) 100 Mg, Potassium Sulfate (Equiv. Potassium 4 Mg) 8.92 Mg, Ferrous Fumarate (Equiv. Iron 3 Mg) 9.13 Mg, Chromium Picolinate (Equiv. Chromium 6.20 Mcg) 50 Mcg, Manganese Amino Acid Chelate (Equiv. Manganese 1.2 Mg) 12 Mg, Copper Gluconate (Equiv. Copper 28 Mcg) 200 Mcg, Potassium Iodide (Equiv. Iodine 50 Mcg) 66 Mcg, Zinc Amino Acid Chelate (Equiv. Zinc 6 Mg) 30 Mg Spearmint Oil 1.69Mg Selenomethionine (Equiv. Selenium 26Mcg) 65Mcg Ubidecarenone (Co-Enzyme Q10) 1Mg And Powder: Carica papaya Fruit (Papaya) 10Mg, Petroselinum crispum Herb (Parsley) 10Mg And Extracts Equivalent To Dry: Berberis vulgaris Rootá (Barberry) 15 Mg, Foeniculum vulgare Fruit (Fennel) 15 Mg, Equisetum arvense Stem (Horsetail) 30 Mg, Apium graveolens Seed (Celery) 20Mg, Zingiber officinale Root (Ginger) 5 Mg, Barosma betulina Leaf (Buchu) 10 Mg, Turnera diffusa Leaf (Damiana) 120 Mg, Astragalus membranaceus Root (Milk Vetch) 50 Mg Centella asiatica Herb (Gotu Kola) 50 Mg Crataegus monogyna Fruit (Hawthorn) 100 Mg Smilax officinalis Root (Sarsparilla) 50 Mg And Extract Equivalent To Fresh Avena sativa Herb (Common Oat) 500 Mg, Cynara scolymus Leaf (Globe Artichoke) 50Mg And Standardised Extracts Equivalent To: Silybum marianum Dry Fruit (St. Mary's Thistle) (Equiv. Flavanolignins Calculated as Silybin 600 Mcg), 50 Mg Panax ginseng Dry Root (Korean White Ginseng) (Equiv. Ginsenosides 1Mg) 50 Mg, Ginkgo biloba Dry Leaf (Maidenhair Tree) (Equiv. Ginkgo Flavonglycosides 480 Mcg and Ginkgolides and Bilobalide 120 Mcg) 100 Mg, Vaccinium myrtillus Fresh Fruit (Fresh Bilberry) (Equiv. Anthocyanosides 62.50 Mcg) 25 Mg, Serenoa serrulata Dry Seed (Saw Palmetto) (Equiv. Fatty Acids 18 Mg) 200 Mg, Camellia sinensis Dry Leaf (Green Tea) (Equiv. Caffeine 250 Mcg) 20 Mg, Lycopersicon esculentum Dry Fruit (Tomato) (Equiv. Lycopene 120 Mcg and Steroidal Alkaloids Calculated as Solanine 20 Mcg) 40 Mg, Tagetes erecta Dry Flower (Aztec Marigold) (Equiv. Xanthophyll 210 Mcg) 20 Mg
This product contains selenium which is toxic in high doses. A daily dose of 100 mcg from dietary supplements should not be exceeded.
Selenium containing products are not suitable for use by children under the age of 15 years.

Not for the treatment of iron deficiency conditions.

Do not take while on warfarin therapy without medical advice.