THOMPSONS ONE-A-DAY GINKGO 6000mg 60 CAPS
Supports mental alertness, mental clarity and focus as we age
Standardised ginkgo extract - each capsule provides 28.8mg of the active ginkgo flavonglycoside components
One-a-day therapeutic dose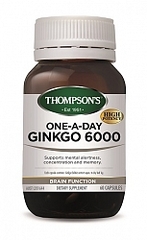 Specials are for online purchases only, don't miss out! -
Email
us to check for availability.
*Helps to maintain mental clarity and focus
*Helps to support mental alertness, mental clarity and focus as we age
*Supports the maintenance of healthy peripheral blood circulation

Suitable For:
*Individuals who need support for mental clarity and focus and alertness.
*Those who need support circulation to peripheral areas of the body
Adults - Take one capsule daily (with food), or as professionally advised
Ginkgo biloba (ginkgo) extract equivalent to dry leaf 6 g
Standardised to contain ginkgo flavonglycosides 28.8 mg

Free From
Corn, dairy, egg, gluten, lactose, nuts, shellfish, soy, sugar, wheat, added yeast, artificial colouring, flavouring and preservatives. Vegetarian
*Use only as directed and always read the label
*If symptoms persist, consult your healthcare professional
The Thompson's brand was established by the respected English herbalist M. Barrington Thompson, who opened New Zealand's first health shop in 1951. Today, Thompson's is a market leader in natural healthcare in New Zealand, enjoying positive growth in Australia and exporting products around the world. In New Zealand, Thompson's is distributed through both health food stores and pharmacies.

Thompson's is dedicated to efficacious natural healthcare based on credible science. This commitment is reflected through our use of the highest quality raw materials and our unique product formulations. Thompson's are continually seeking solutions that will drive better health outcomes and deliver a range of healthcare benefits to support a healthy lifestyle.

Thompson's - the natural advantage.