3NS TEX Kinesiology Sports Tape Beige
Normalize muscle function Improvement of Lymphatic and blood flow pain reduction and management correction of the misalignment of joints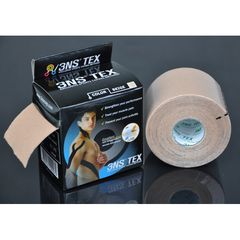 Specials are for online purchases only, don't miss out! -
Email
us to check for availability.
Normalize muscle function Improvement of Lymphatic and blood flow pain reduction and management correction of the misalignment of joints
How to remove paper backing
To remove paper backing, place the tip of your thumb on the edge of the tape and then simply roll back your thumb clong and towards your body
To remove paper backing, since the tension of the 3NS Tex Tape is different from that of the paper backing, the paper backing will tears as a result of twisting the tape itself.
To apply the tape into pain area, the skin and muscle of the affected area has to be fully stretched before application of the tape. Do not stretch the tape itself, and then leave it on for 3-5 days
When removing 3NS Tex Tape from the skin, never remove the tape against the direction of body hair and giving as little tendion as possible. One should try to remove skin from 3NS Tex Tape rater than "removing 3NS Tex Tape from skin.
Size Available: 5 cm *2.5m