MACK'S Pillow Soft Silicone Putty Ear Plugs 6 Pair
6 Pair Value pack, hypoallergenic original formula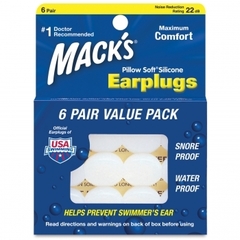 Specials are for online purchases only, don't miss out! -
Email
us to check for availability.
The original Moldable Silicone Putty Earplugs
The ultimate in earplug comfort, Mack's silicone putty molds to the unique contours of any ear.
Noise reduction rating 22 Decibels
Doctor recommended to:
Seal out water
Help prevent swimmer's ear infections
Provide protection after surgeries
Help relieve flying discomfort
Protect hearing from loud noises
Provide non-toxic, non-allergenic protection
Provide a better, more comfortable fit and seal than custom ear plugs
Get a good night's sleep when sleeping with a snoring spouse
Carrying case included
Indications
Seals out water and reduces noise.

Directions
DO NOT INSERT INTO EAR CANAL. COVER ONLY.

1. Make sure hands and ear opening are clean and dry. Shape whole plug into a ball.
2. Place plug over ear opening and flatten to form airtight seal. Avoid hair.
3. Do not insert into ear canal!
4. To loosen and remove, press up behind ear. Discard when soiled or no longer sticky (up to 5 uses). For best results when flying, wear earplugs entire flight. Do not cut, break apart or elongate earplugs.
Moldable, non-irritating silicone rubber
Warnings & Precautions
WARNING: Use whole earplug. Cover only. Do not force plug into ear canal. Do not cut, break apart or elongate earplugs. If misused by failure to use as directed, earplug may become lodged in ear, requiring removal by an Ear, Nose and Throat Doctor ONLY!

WARNING: Adult supervision required for children under 15. Keep away from infants and small children when not in use. These plugs are non-toxic but may interfere with breathing if caught in windpipe, which could lead to serious injury or death. Do not use for scuba diving or at depths over 10 feet. Use only as directed.

CAUTION: Lubricants and solvents can degrade this product. Discard if earplugs come in contact with lubricants, solvents or other chemicals. May be use in chlorinated water.