Ansell Contempo 12 Nuda Condoms
If feeling natural sensation is important, than Bareback is for you. Bareback is for those who want to feel as if they're using nothing at all. Ultra thin, ultra sensitive. Nuda... for those who want a really natural feel.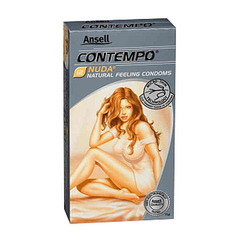 Specials are for online purchases only, don't miss out! -
Email
us to check for availability.
Contempo is a 53mm nominal width condom with reservoir teat which is lubricated (not spermicidal) for easy application and greater sensitivity.

Contempo Nuda condoms are ultra thin to maximise sensitivity and sensation.
Use as directed
For optimal security the product should be placed in a cool dry place away from sunlight.
Ansell condoms are electronically tested for reliability.