AsproClear Extra strength 500mg 16 effervescent tablets
Totally soluble ..... works fast.

Effervescent Tablets to relieve pain and fever.

Aspro Clear Extra Strength is pleasant to take and starts to work quickly because it forms a completely clear solution, ready to be absorbed as soon as you drink it.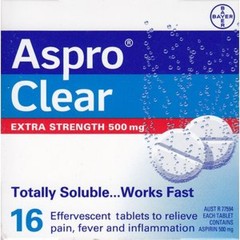 Specials are for online purchases only, don't miss out! -
Email
us to check for availability.
Extra strength aspro clear provides temporary pain relief. Provides rapid relief of severe headache pain, muscle and joint pains, rheumatic pain, backache, period pain and toothache. Reduces fever.
Adults - Take 1 or 2 tablets dissolved in half a glass of water every 4 hours
Do not exceed 8 tablets in 24 hours unless so directed by doctor. Do not administer to children except on doctor's advice.This preparation is for the relief of minor and temporary ailments and should be used strictly as directed. Prolonged or excessive use without medical supervision could be harmful. Should not be taken by persons on low sodium diet.