Audiclean Ear Cleansing Wash 60ml
Gently washes away excess wax and dirt.

AUDICLEAN is made from 100% Sea Serum™, a naturally derived isotonic solution with no preservatives, making it safe for regular use.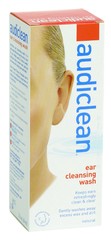 Specials are for online purchases only, don't miss out! -
Email
us to check for availability.
AUDICLEAN is created from seawater that is harvested from the crystal clear waters off Saint-Malo on the west coast of France. The tides in this region are among the strongest in the world, constantly enriching the pure waters with natural mineral salts.

AUDICLEAN is manufactured using a patented and unique technology developed by the world-leading marine biotechnology specialists, GO_MAR. The process purifies and sterilizes the seawater while adapting its composition for optimal efficacy and tolerance.

The AUDICLEAN delivery system:

The AUDICLEAN nozzle and bottle have been specially designed to the shape of the ear to safely and comfortably deliver its gentle, naturally cleansing wash.
The soft, circular spray delivers AUDICLEAN to the ear while avoiding any direct contact with the sensitive eardrum.

With each individual spray, the hygienically designed outtake-only bottle dispenses circular jets of clean and fresh AUDICLEAN cleansing wash, so there's no need to worry about used product flowing back into the bottle.
AUDICLEAN ear cleansing wash is a gentle and effective way to safely clean the ears delicate inner parts. When used 2 to 3 times a week, AUDICLEAN helps prevent wax build-up and keeps ears refreshingly clean and clear. AUDICLEAN is safe for the entire family (ages 2 and up) and quick and easy to use, in or out of the shower or bath, preferably seated. Allow at least 10 days of regular use to adapt to the refreshing experience of AUDICLEAN that gives your ears a new feeling of cleanliness.

For best results, use once a day for just 10 days, then 2-3 times a week.

Attach nozzle on top of the bottle by pressing it gently into place
Place index finger into nozzle
Gently insert nozzle into ear, while keeping head upright; depress for 1 second
Leave solution in ear for 10 seconds
Gently tilt head to allow wash to drain out
Gently dry outer ear with a clean towel or tissue
In case of excessive wax production, leave product to act for 10 minutes. Repeat procedure up to 4 times if necessary
Repeat process on the other ear. Rinse nozzle with hot water after each use.
Active Ingredients
Made from 100% Sea Serum™, a naturally derived isotonic solution with no preservatives
Do not use if you have ear pain, an ear infection, swimmer's ear, an eardrum perforation, pressure-equalizing tubes (PETs/grommets), balance disorders, insulin-deficient diabetes, immunosuppression, had ear surgery or if you have a foreign item in the ear or a hard and/or obstructive earwax blockage (indicated by difficulty hearing, pain, ringing noise, feeling of blockage, temporary deafness after swimming or shower), Do not use on children under 2 years of age.

In case of pain or persisting ear discomfort, DISCONTINUE product use and consult your HEALTHCARE PROFESSIONAL. This may indicate the presence of an existing hard and/or obstructive earwax blockage or inflammation
Do not insert any objects (for example cotton buds) into ears before or after using AUDICLEAN
Do not dry the ear canal too vigorously after use as this could trigger irritation or inflammation