Benzac AC Wash 5% 200ml
**OUT OF STOCK - May 2023** please email [email protected] for updates.
Benzac AC Wash is a treatment for use in mild to moderate acne. It's convenient because it provides both a cleansing and treatment action combined in one.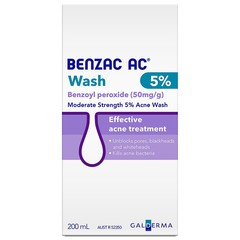 Specials are for online purchases only, don't miss out! -
Email
us to check for availability.
Highly effective anti-bacterial action
Kills acne-causing bacteria within 48 hours

Unblocks pores
It has a mild peeling (keratolytic) effect to help remove the follicle plug

Absorbs excess oil
Unique Acrylates Copolymer (AC)/glycerin complex removes excess oil

Reduces risk of irritation
Unique Acrylates Copolymer (AC)/glycerin complex releases glycerin which hydrates healthy skin
What's this 'AC' all about?
Benzac AC removes excess oil and hydrates your skin. It does this by using advanced Acrylates Copolymer (AC)/ glycerin complex.
Sounds all sciency and stuff we know, but basically Acrylates Copolymers are tiny highly porous beads. These beads are so porous that they can absorb up to four times their own weight in fluid.
Acrylates Copolymer beads soak up certain liquids quickly and easily, but they are selective about what they can absorb. They rapidly absorb oils, however, they can't absorb water, as water has a very high surface tension.
The other ingredient that works with AC, is glycerin. Glycerin lubricates the skin, making it smooth and soft. So whilst the Acrylates Copolymers (AC) absorb the excess oil that can carry bacteria, the glycerin helps hydrate the skin.
So what does this mean for acne?
When Acrylates Copolymer/glycerin complex is applied to the face, the beads come in contact with lipids, such as sebum, that have a high affinity for them. Sebum, because of its attraction to the beads, forces the glycerin out of the beads and onto the skin surface. The AC beads then absorb the sebum.
How do you use Benzac Wash,
Firstly, wet the affected area. Gently rub on Benzac AC Wash 5%, work into a lather and leave in contact with skin for 30 seconds. Rinse thoroughly and pat dry.
During the first few weeks of treatment a sudden increase in peeling may occur. This is not harmful and will normally subside within a day or two.
If too much drying occurs, you may need to rinse the cleanser off sooner, use it less often or use a moisturiser.
Active:
Benzoyl Peroxide 50mg/g

Inactives: Acrylates copolymer, glycerol, carbomer 940, sodium C14-C16 olefin sulfonate, sodium hydroxide q.s. or citric acid q.s. for pH adjustment, purified water to 100g
While you are using BENZAC AC WASH
Things you must not do:
Keep away from eyes, lips, mouth or sensitive areas of the neck. If excessive swelling, irritation, redness or peeling occurs, discontinue use.
Avoid excessive exposure to sunlight or other sources of ultra-violet light, particularly at high altitudes or where the ground is snow covered.

Things to be careful of:
Be careful when using BENZAC gel because benzoyl peroxide can bleach or discolour clothing or towels.