BEROCCA PERFORMANCE EFFERVESCENT TABLETS ORANGE 30
Berocca Performance contains a specific combination of B group
vitamins and vitamin C, enhanced with added calcium, magnesium
and zinc. These ingredients work in synergy to help your body
release the maximum energy from the food you eat.
A daily Berocca Performance is the healthy way to get more out of
every day.

*ORANGE FLAVOUR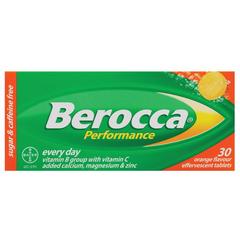 Specials are for online purchases only, don't miss out! -
Email
us to check for availability.
Berocca Performance contains a specific combination of B group vitamins and vitamin C, enhanced with added calcium, magnesium and zinc. These ingredients work in synergy to help your body release the maximum energy from the food you eat. A daily Berocca Performance is the healthy way to get more out of every day.

*ORANGE FLAVOUR
Directions
Adults, 1 tablet, dissolved in a glass of water. Take daily or as directed by your Doctor.
Each Berocca Performance tablet contains:

Thiamine hydrochloride (Vit B1) (as thiamine P.A.E.C.) 15mg Riboflavine (Vit B2) (as riboflavine sodium phosphate) 15mg Nicotinamide (Vit B3) 50mg Pantothenic acid (Vit B5) (as calcium pantothenate) 23mg Pyridoxine hydrochloride (Vit B6) 10mg Cyanocobalamin (Vit B12) 10ug Ascorbic acid (Vit C) 500mg Biotin (Vit H) 150ug Folic acid 400ug Calcium (as calcium carbonate and calcium pantothenate) 100mg Magnesium (as magnesium carbonate-heavy and magnesium sulfate dihydrate) 100mg Zinc (as zinc citrate trihydrate) 10mg

Gluten free Lactose free DOES NOT CONTAIN SUGAR, CAFFEINE OR ARTIFICIAL STIMULANTS
Each tablet contains 273mg of sodium which should be taken into account by those on a low sodium diet.

Contains aspartame. Phenylketonurics are warned this product contains phenylalanine.

Always read the label. Use only as directed. If symptoms persist see your healthcare professional. Vitamin supplements should not replace a balanced diet.