Betadine Sore Throat Gargle 15ml
OUT OF STOCK - Mar 2022 - Please email us for product availability update
[email protected]
Betadine Concentrated Sore Throat Gargle is a concentrated anti-viral and anti-bacterial formula used as an aid in the treatment of sore throats. This gargle must be diluted before use. A convenient measure is included inside each pack to help ensure correct dosage.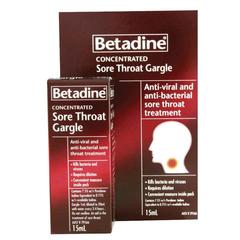 Specials are for online purchases only, don't miss out! -
Email
us to check for availability.
Betadine Sore Throat Gargle is an anti-viral and anti-bacterial sore throat treatment that kills bacteria and viruses.
A sore throat may be due to a number of causes including smoking, allergic reactions and other factors. Most commonly though, they are due to a bacterial or viral infection of the throat.
Betadine Gargle kills most bacteria and viruses implicated in sore throat (pharyngitis) within 30 seconds and may be used as an aid in the treatment of such an infected sore throat.
Dilute 1ml to 20ml with water gargle for 30 seconds, repeat 3 to 4 hourly.
Povidine-Iodine 7.5%w/v equiv. 0.75%w/v available Iodine. Concentrate: Povidone iodine 7.5%, ethanol: Ready-to-use: Povidone iodine 1%, ethanol.
Betadine Throat Gargle contains Povidone-iodine 7.5%w/v. For external use only. Incorrect use could be harmful. Sanofi Consumer Healthcare, Auckland. 0800 882266.
A severe sore throat accompanied by fever, headache, nausea or vomiting, or any sore throat persisting for more than 2 days may be serious. In such cases consult a doctor. Do not use if hypersensitive to Iodine. Always read the label and use as directed.