BioBalance Liposomal Vitamin C Liquid 300ml
IN STOCK
BioBalance Liposomal Vitamin C offers powerful and fast-acting support for the body's immune system and aids quick recovery from ills and chills.
Support For Superior absorption via liposomes Quick recovery from ills and chills Powerful antioxidant action Iron absorption and wound healing Natural resistance to allergens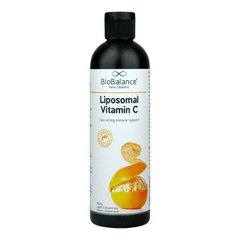 Specials are for online purchases only, don't miss out! -
Email
us to check for availability.
BioBalance Liposomal Vitamin C is a tasty liquid vitamin C offering flexible dose administration and superior bioavailability using high quality liposomes. Nature knows best! Via mother's milk, essential nutrients are fed to the developing infant within liposomes. Our liposomal vitamin C delivery system emulates nature's example, providing superior absorption to cells.
Liposomes are the same structure as cell membranes, and naturally form an outer shell around the vitamin C (natural sodium ascorbate and ascorbic acid). At a validated size variation of only 370 nanometres, these microscopic, highly structured lipid spheres cross the small intestine, enter the bloodstream and deliver the vitamin C right inside the cells of tissues needing repair, at the same time as they fuse with the cell membrane.
Our soy-free liposomes are made from an all-natural, non-hydrogenated phosphatidylcholine, derived from non-GMO sunflower oil. Go to the Quality Assurance tab on this page to see photographic evidence of the quality of BioBalance liposomes.
Vitamin C is an essential nutrient and a powerful antioxidant, supporting natural immunity and resistance to allergens. It is necessary for iron absorption, and because it has a vital role in all of the hormones produced by the adrenal glands, it is rapidly used up during stress.
Vitamin C is also needed for collagen formation and wound healing. Collagen helps form connective tissue, so the entire musculo-skeletal system depends on it to stay healthy. The blood vessels and organs also rely on it to maintain their structural integrity.
Vitamin C is safe in high doses because it is a water soluble vitamin that the body self regulates. Nearly all of the vitamin C in Liposomal Vitamin C reaches the cells, maximising the effectiveness of each dose.
Always read the label and use as directed.
Supplementary to a balanced diet.
Or as directed by a healthcare professional.
Refrigerate after opening.
Keep out of reach of children.
Adults: Take 5mL (approx 1 tsp) daily.
Children: Take up to half a teaspoon daily.
Shake well before use. Some separation may occur. Dilute to taste with a small amount of water or juice.
Vitamin C (as Sodium Ascorbate and Ascorbic Acid) 1000mg
Sodium 125mg
Liposome proprietary blend: Sunflower lecithin extract and glycerin complex (non-GMO oleic acid) 500mg
Other ingredients: Purified water, natural fruit and berry extracts, potassium sorbate
BioBalance
BioBalance is a family-run business, which is 100% New Zealand owned and operates from the stunning Golden Bay located in the South Island.
With their broad knowledge of natural health products, BioBalance has also developed an extensive organic supplements range, which is certified by AsureQuality Organic NZ. All their products are sourced purely and naturally, which together with stringent testing standards and strict New Zealand manufacturing standards, means you can be assured of a safe, high quality product.
The BioBalance range includes a Liposomal range, as well as selection of Superfoods and weight management supplements.
For more info visit the BioBalance website.