Bioglan Kids Smart Vita Gummies Multi-Vitamin + Vegies 60s
BIOGLAN KIDS SMART VITA GUMMIES Multivitamin + Vegies are a great tasting berry flavour soft gummie. Bursting with flavour and goodness, Vita Gummies Multivitamin + Vegies has 9 essential vitamins and added carrot, tomato, spinach, beetroot & artichoke.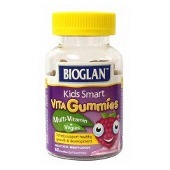 Specials are for online purchases only, don't miss out! -
Email
us to check for availability.
Features & Benefits:
*By incorporating into a healthy and balanced eating plan you can boost your child's vitamin intake to support optimal growth and healthy development
*Kids Smart Vita Gummies Multivitamin + Vegies is important for helping to support healthy growth and development


Additional Information:
They Contain:
*Vitamin A- helps maintain the integrity of mucous membranes and skin as well as being an antioxidant and important precursor for healthy eyesight and immune function
*Vitamins B3, B6 & B12- assist in the formation of red blood cells and in the metabolism of carbohydrates, proteins and fats
*Vitamin C- is an important antioxidant which plays a vital role in development and maintenance of connective tissue, gums, teeth and immune system
*Vitamin D- plays a critical role in cell health, bone formation and immune function
*Vitamin E- is involved in a number of biochemical processes within the body including neurological and immune function as well as acting as an antioxidant
Children 2-3 years: Take 1 gummie per day

Children 4+ years: Take 2 gummies per day.

Or as advised by your healthcare professional.
Vitamins can only be of assistance if the dietary intake is inadequate.
60 soft pastilles (soft gummies). Berry flavour.

Each gummie contains:

Retinyl Palmitate (Vitamin A 366mcg) 665 IU
Equiv. to Retinol 200mcg RE
Folic Acid 50mcg
Nicotinamide (Vitamin B3) 4.5mg
Pyridoxine Hydrochloride (equiv. Pyridoxine (vitamin B6) 500mcg) 607.8mcg
Cyanocobalamin (Vitamin B12) 0.25mcg
Ascorbic Acid (Vitamin C) 15mg
Cholecalciferol (Vitamin D3) 50 IU 1.25mcg
dl-alpha Tocopherol Acetate (Vitamin E) 2.5mg
Biotin 37.5mcg
Spinacia oleracea (Spinach) leaf powder 5mg
Lycopersicon esculentum (Tomato) fruit powder equiv. to Steroidal alkaloids calculated as solanine 10 mcg 5mg
Daucus carota (Carrot) root powder 5mg
Beta vulgaris (Beetroot) root powder 5mg
Cynara scolymus (Artichoke) flower bud powder 5mg
Not to be used in children under 2 years without medical advice.