Bioglan Kids Smart Vita Gummies Omega 3 Fish Oil 60 Gummies
BIOGLAN Kids Gummies Omega-3 can help top up your child's intake of Omega-3 essential fatty acids, an important nutrient for growing children. The body can't produce omega-3 on its own, so your child needs to get it from their diet. The omega-3 in one serve of BIOGLAN Kids Gummies each day for a week is equivalent to 100g of tuna.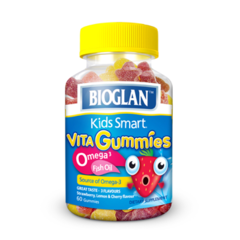 Specials are for online purchases only, don't miss out! -
Email
us to check for availability.
Features & Benefits:
*Fish oil supplies Omega-3 essential fatty acids, a critically important nutrient, especially for growing children. Bioglan Kids Smart Vita Gummies Omega-3 help top up your child's Omega-3
*Each bottle has 3 great flavours - Strawberry, Lemon, Cherry - they taste gummie-tastic. And with no "fishy" aftertaste or smell!


Additional Information:
Omega-3′s are good fats that are required from the diet as our body cannot manufacture them sufficiently.
Children 2+ years: Take 2 gummies per day.

Or as advised by your healthcare professional.
Vitamins can only be of assistance if the dietary intake is inadequate.
Active Ingredients:
60 gummies. Strawberry, Lemon and Cherry flavour.

Each gummie contains:
Glucose, Sugar, Water, Gelatin, Fish oil, Natural Flavours, Food Acids (330, 270, 300, 297), Natural Colours (163,100), Antioxidant (natural vitamin E).
Not to be used in children under 2 years without medical advice.