Biomax-Vit C Liposomal 730mg 30 Caps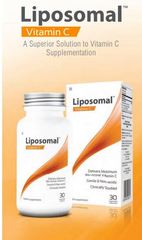 Specials are for online purchases only, don't miss out! -
Email
us to check for availability.
Description:
With Coyne Healthcare's Biomax Vitamin C Liposomal®, the body receives essential phospholipids with the vitamin C delivering a powerful immunity support booster.

So not only does the body get all the benefits of vitamin C, but it also help satisfy the body's ever-growing need for essential phospholipids including Phosphatidylcholine (PC). PC is one of the most important phospholipids required for many vital functions in maintaining a healthy cardiovascular, reproductive, immune, and nervous system.

Biomax Vitamin C's liposome encapsulated form of vitamin C is the first choice of people who really understand bioavailability and the importance of high-dose vitamin C. Other forms of vitamin C succumb to absorption barriers that vastly limit the level of vitamin C that can enter the bloodstream. Biomax Vitamin C Liposomal® crashes through these barriers to get high potency vitamin C where you need it most, your cells.
Benefits:
Formulated deliver more vitamin C into the blood stream
Gentle on the stomach and non-acidic
MO free Quali-C® Vitamin C from European source (non-China)
Vegetarian friendly, supports Paleo, Zone and Vegan Diets
Dosage:
Take 1 to 2 capsules per day, or as recommended by a healthcare practitioner.
Each capsule contains,

Liposomal Vitamin C 730mg
- from L-ascorbic acid 500mg and Phosphotidylcholine Complex 230mg
L-Ascorbic acid
Lecithin
Palmitic acid
Oleic acid from non-hydrogenated sunflower and vegetable oils

Vegetable Capsule: Hydroxpropyl methylcellulose
If you are using medication to lower blood pressure or have a bleeding disorder consult your healthcare professional before using Liposomal Vitamin C®.

Not recommended for use with Warfarin.