Blackmores Bio Magnesium Tabs 50
Supporting healthy muscle function
Blackmores Bio Magnesium supports normal healthy muscle function, including the contraction & relaxation of major muscle groups such as the calves. It includes vitamin D3 to aid magnesium absorption.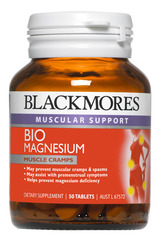 Specials are for online purchases only, don't miss out! -
Email
us to check for availability.
*Combines magnesium with co-factors for improved absorption and utilisation
*Supports normal muscle function
*Supports a healthy female reproductive cycle

Magnesium supports normal muscle function, including the contraction and relaxation of major muscle groups such as the calves. If blood levels of magnesium are low, magnesium is withdrawn from the muscles, causing them to stiffen up or contract.
Magnesium is essential for many cellular functions, particularly for the normal functioning of muscle and nerve tissue.
Blackmores Bio Magnesium contains co-factors that support the absorption and utilisation of magnesium. For example, vitamin B6 supports the action of magnesium in many of the body's enzyme systems, and the two nutrients work together to support the healthy functioning of the female reproductive system and help maintain a healthy menstrual cycle.
Adults - Take 1 tablet a day with a meal, or as professionally prescribed.
Children 6 - 12 years - We recommend Blackmores Magnesium Compound.
Children (under 6 years) - Only as professionally prescribed.
Magnesium oxide - heavy 440 mg
Magnesium phosphate
(equiv to total magnesium 300 mg) 175 mg
Calcium ascorbate 50 mg
Vitamin B6 (Pyridoxine hydrochloride) 50 mg
Vitamin D3 (Cholecalciferol 2.5 mcg) 100 IU
Manganese amino acid chelate
(Manganese 4 mg) 40 mg
*WARNING - This product contains Pyridoxine hydrochloride which may be dangerous when used in large amounts or for a long time.
Pyridoxine-induced peripheral neuropathy is most commonly reported with doses of 1 g or more daily, taken for 2 months to 3 years
*If symptoms persist, see your healthcare professional.
*Always read the label. Use only as directed.
Blackmores, a leading natural health brand, improves peoples' lives by delivering the world's best natural health solutions, to become peoples' first choice in healthcare. We achieve this by translating our unrivalled heritage and knowledge into innovative, quality branded healthcare solutions that work. Our high quality products, reliable free naturopathic advisory service and award-winning website are among the many reasons Blackmores is the most trusted name in natural health.