Blackmores Bio Zinc Tabs 168
Supporting skin health, immunity & healthy sperm
Zinc with co-factors to help maintain healthy skin & support skin prone to acne and other minor skin disorders. Blackmores Bio Zinc also supports immunity, male reproductive health & healthy sperm.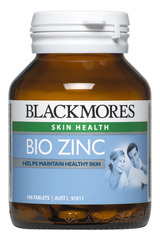 Specials are for online purchases only, don't miss out! -
Email
us to check for availability.
*Helps maintain healthy, supple, elastic skin
*Supports acne-prone skin and dermatitis
*Supports wound healing
*Supports the production of healthy sperm and helps maintain a normal healthy sperm count
*Supports immunity and helps maintain resistance to infection
*Supports the body's defences against free radicals
*Includes co-factors to support the actions and utilisation of zinc

Zinc is essential to good health and is found in every cell of the body. It is involved in many enzymatic reactions, and plays an important role in the body's antioxidant defences against free radicals.
Zinc is important for healthy skin and is involved in normal oil gland function and the repair of wounds and other skin problems. Consequently zinc supplements may provide extra support for acne-prone skin, slow-healing wounds, and minor skin problems such as dermatitis.
Adequate intake of zinc is also important for immunity, which may be compromised if zinc levels are low.
Zinc helps maintain the senses of vision, taste and smell, and low levels may contribute to problems with taste or smell.
Zinc plays an essential role in the male reproductive tract, where it is involved in the production of healthy sperm.
In Blackmores Bio Zinc, zinc is accompanied by vitamin A (which is also required for healthy immune function and the maintenance of healthy skin), manganese (which works with zinc to support the body's antioxidant defences), and magnesium and vitamin B6 (both of which are involved in zinc metabolism).
Adults - Take 1 tablet a day with a meal, or as professionally prescribed.
Children under 12 years - Only as professionally prescribed
Zinc amino acid chelate (Zinc 14.9 mg) 74.5 mg
Magnesium phosphate (Magnesium 18.6 mg) 90 mg
Manganese amino acid chelate (Manganese 2 mg) 20 mg
Vitamin A (Retinyl acetate 860 mg) 2500 IU
Vitamin B6 (Pyridoxine hydrochloride) 50 mg
*The recommended adult daily amount of vitamin A from all sources is 2500IU. When taken in excess of 8,000 IU vitamin A can cause birth defects. If you are pregnant, do not take vitamin A supplements without consulting your doctor or pharmacist.
*If you are pregnant or breastfeeding consult your healthcare professional before use.
Blackmores, a leading natural health brand, improves peoples' lives by delivering the world's best natural health solutions, to become peoples' first choice in healthcare. We achieve this by translating our unrivalled heritage and knowledge into innovative, quality branded healthcare solutions that work. Our high quality products, reliable free naturopathic advisory service and award-winning website are among the many reasons Blackmores is the most trusted name in natural health.