Blackmores CardiWell Omega Q10 Caps 60
Supporting a healthy heart
If you're looking for help to proactively maintain your heart health Blackmores Cardiwell™ Omega Q10 is a convenient two-in-one formula for a healthy heart. It contains relevant doses of omega-3 fatty acids to help maintain healthy blood triglycerides levels and CoQ10 to support healthy functioning of the heart.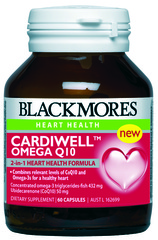 Specials are for online purchases only, don't miss out! -
Email
us to check for availability.
*Convenient two-in-one formula
*Provides relevant doses of omega-3s and CoQ10 for a healthy heart
*Helps to maintain a healthy heart and cardiovascular system

Healthy heart function is dependent on a number of factors - including antioxidant status and the fat in your blood. This formula contains relevant doses of both omega-3 fatty acids and CoQ10 for a healthy heart.

Blackmores CardiWellTMOmega Q10; Omega Q10 provides a daily dose of 500 mg of omega-3s and also helps to maintain healthy triglyceride levels. Triglycerides are a type of fat and healthy triglyceride levels in the blood are an important marker of heart health.

CoQ10 is a naturally-occurring vitamin-like nutrient found in every cell of the body. It's found in highest concentrations in hard-working organs with the highest levels of oxygen consumption such as the heart. It is an essential component of the energy-producing processes in cells. CoQ10 has been extensively investigated for its benefits to the heart. It is a potent antioxidant and helps protect against free-radical damage therefore helping to maintain healthy arteries. CoQ10 is produced in the body with only a small amount found in the diet. However our ability to produce CoQ10 declines with age.

A daily dose of 100mg of CoQ10 supports healthy heart function and helps to maintain the body's levels of CoQ10.

This product is suitable for all adults concerned with general heart health and is a convenient way to increase levels of these two important nutrients.
Adults - Take 2 capsules a day with breakfast, or as professionally prescribed.

Children under 12 years - only as professionally prescribed.
Concentrated omega-3 triglycerides fish
Containing omega-3 marine triglycerides 250 mg as:
Eicosapentaenoic acid (EPA)
Docosahexaenoic acid (DHA) 432 mg
147 mg
103 mg
Ubidecarenone (Coenzyme Q10) 50 mg
*Do not take while on warfarin therapy without medical advice
*Not recommended for use during pregnancy or breastfeeding
*If you are already taking heart medication see your doctor before making any changes
*May occasionally cause mild gastrointestinal symptoms
Blackmores, a leading natural health brand, improves peoples' lives by delivering the world's best natural health solutions, to become peoples' first choice in healthcare. We achieve this by translating our unrivalled heritage and knowledge into innovative, quality branded healthcare solutions that work. Our high quality products, reliable free naturopathic advisory service and award-winning website are among the many reasons Blackmores is the most trusted name in natural health.