Blackmores Cholesterol Health Caps 60
Supporting healthy cholesterol levels
If you're looking for help to support healthy cholesterol levels, Blackmores Cholesterol HealthTM provides a relevant daily dose of 2 grams of plant sterols.
Halal certified.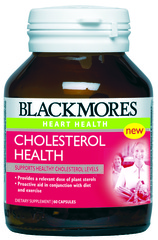 Specials are for online purchases only, don't miss out! -
Email
us to check for availability.
*Provides a relevant dose of plant sterols
*Complements diet and lifestyle measures to support healthy cholesterol levels
*Convenient dosage

Cholesterol support is an important part of many people's diet and lifestyle regimes. Blackmores Cholesterol HealthTM contains plant sterols which help to support healthy cholesterol levels. It also contains betacarotene, as betacarotene absorption may be reduced when taking plant sterols.
Plant sterols are fat-like compounds with a chemical structure that is very similar to cholesterol. However compared to cholesterol, plant sterols are only minimally absorbed. They are naturally present in everyday foods, especially in vegetables, fruit, nuts, grains and cooking oils.
During digestion, the plant sterols compete with cholesterol for absorption. What this means is that less cholesterol is absorbed and more cholesterol is excreted.
Blackmores Cholesterol HealthTM provides a daily dose of 2 grams of plant sterols.
Blackmores Cholesterol HealthTM is for people concerned about their cholesterol levels and is a proactive addition to a healthy diet and lifestyle.
Adults - Take 1 capsule twice daily with main meal, or as professionally prescribed.
Children under 12 years - Only as professionally prescribed
Vegetable oil phytosterol esters (plant sterols) 1 g (1000 mg)
Natural betacarotene 1.5 mg
*Not suitable for pregnant or lactating women
*Blood cholesterol levels should be regularly checked
*If already taking cholesterol medication, see a healthcare professional to find out if this product is right for you.
Blackmores, a leading natural health brand, improves peoples' lives by delivering the world's best natural health solutions, to become peoples' first choice in healthcare. We achieve this by translating our unrivalled heritage and knowledge into innovative, quality branded healthcare solutions that work. Our high quality products, reliable free naturopathic advisory service and award-winning website are among the many reasons Blackmores is the most trusted name in natural health.