Blackmores Cod Liver Oil 1000mg Caps 80
Supporting immunity and bone health
A rich source of vitamins A & D. Vitamin A helps maintain the lining of the respiratory tract, which is important for immunity. Vitamin D supports optimal calcium absorption & strong healthy bones.
Halal Certified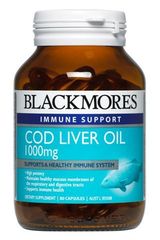 Specials are for online purchases only, don't miss out! -
Email
us to check for availability.
*High potency
*Rich natural source of vitamins A and D
*Supports a healthy immune system
*Supports calcium absorption and helps maintain strong, healthy bones
*Supports skin health

Blackmores Cod Liver Oil 1000mg is a rich natural source of the fat-soluble vitamins A and D.
Vitamin A is essential for the formation of healthy epithelial cells, such as the mucus-producing cells of the respiratory and digestive tracts, which act as one of the body's first lines of defence against infection. It is also important for skin health.
Vitamin D supports the absorption and utilisation of calcium, and consequently is important for building and maintaining strong healthy bones. In older people, vitamin D also supports muscle strength, which in turn supports balance and stability, reducing the likelihood of falling over.
Adults - Take 1 to 3 capsules once a day with a meal, or as professionally prescribed.
Children 4-12 years - Take 1 capsule a day (pierce and squeeze into milk, juice or cereal), or as professionally prescribed.
Children under 4 years - only as professionally prescribed.
Cod liver oil (natural) 1000 mg
providing:
Vitamin A 1000 IU
Vitamin D3 (Cholecalciferol 2.5 mg) 100 IU
*The recommended adult daily amount of vitamin A from all sources is 2500IU. When taken in excess of 8,000 IU vitamin A can cause birth defects. If you are pregnant, or considering becoming pregnant, do not take vitamin A supplements without consulting your doctor or pharmacist.
*Always read the label. Use only as directed.
Blackmores, a leading natural health brand, improves peoples' lives by delivering the world's best natural health solutions, to become peoples' first choice in healthcare. We achieve this by translating our unrivalled heritage and knowledge into innovative, quality branded healthcare solutions that work. Our high quality products, reliable free naturopathic advisory service and award-winning website are among the many reasons Blackmores is the most trusted name in natural health.