Blackmores CoQ10 150mg Caps 30
Supporting heart health and cellular energy production
High potency coenzyme Q10 to support cardiovascular health and cellular energy. CoQ10 levels decline as we age, so taking a CoQ10 supplement may help maintain healthy heart and blood vessel function.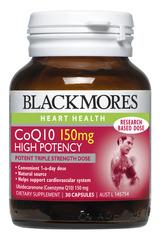 Specials are for online purchases only, don't miss out! -
Email
us to check for availability.
*High potency dose of CoQ10 in a convenient one-a-day capsule
*Supports heart and blood vessel health
*Supports healthy cholesterol via an antioxidant effect on LDL-cholesterol ("bad" cholesterol)
*Contains natural source CoQ10 in an oil-based suspension for improved absorption

CoQ10 is a vitamin-like nutrient that is found naturally in the body and plays an essential role in the production of energy in all cells. It is important for the maintenance and health of virtually all human tissues and organs.
It is concentrated in organs with high metabolic activity such as the heart, which is one of the most active tissues in the body and therefore requires an ongoing adequate supply of CoQ10.
CoQ10 supports heart health, and is especially important for the functioning of the muscles of the heart. It also helps maintain artery health by supporting the body's antioxidant defences against free radicals, and in particular against the oxidation of LDL-cholesterol ("bad" cholesterol).
The body's ability to synthesise CoQ10 declines with age and when taking certain medications, so supplementation may help to ensure optimal levels of this essential antioxidant.
Adults - Take 1 capsule once a day with a meal, or as professionally prescribed.
Children under 12 years - Only as professionally prescribed.
Ubidecarenone (Coenzyme Q10) 150 mg
*Not to be taken if on warfarin therapy without medical advice.
*May occasionally cause mild gastrointestinal symptoms.
Blackmores, a leading natural health brand, improves peoples' lives by delivering the world's best natural health solutions, to become peoples' first choice in healthcare. We achieve this by translating our unrivalled heritage and knowledge into innovative, quality branded healthcare solutions that work. Our high quality products, reliable free naturopathic advisory service and award-winning website are among the many reasons Blackmores is the most trusted name in natural health.