Blackmores Echinacea ACE + Zinc Tabs 30
Supporting immunity with echinacea and antioxidants
A daily supplement for regular use that combines echinacea with the nutrients betacarotene, zinc, and vitamins C and E to support immunity and help maintain resistance to infection.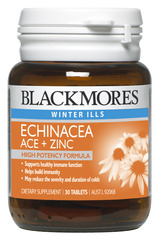 Specials are for online purchases only, don't miss out! -
Email
us to check for availability.
*Supports immunity and helps maintain resistance to infection
*Supports the healthy functioning of the mucous membranes, which are an important component of the immune system
*Supports the body's defences against free radicals

Echinacea supports the body's resistance to infection via a number of mechanisms, including supporting the activities of a group of immune cells called phagocytes, whose role is to engulf and digest bacteria and other foreign bodies.
Betacarotene is converted in the body into vitamin A. Vitamin A is essential for the formation of healthy epithelial cells, such as the mucus-producing cells of the respiratory and digestive tracts, which act as one of the body's first lines of defence against infection.
Zinc and vitamins C and E are important for immunity and help maintain resistance to infection, which may be impaired if dietary intake of these nutrients is inadequate.
All of these nutrients also work together to support the body's antioxidant defences against free radicals.
Adults - Take 1 tablet 3 times a day with meals, or as professionally prescribed.
Children 2-12 years - Only as professionally prescribed. Not to be used by children under 2 years of age without medical advice.
Echinacea purpurea (Echinacea) extract equiv. to dry whole plant 500 mg
Betacarotene 3 mg
Vitamin B5 (Pantothenic acid from calcium pantothenate 28 mg) 25.7 mg
Vitamin B6 (Pyridoxine hydrochloride) 13 mg
Vitamin C (Ascorbic acid) 250 mg
Vitamin E (d-alpha-tocopheryl acid succinate 41.3 mg) 50 IU
Zinc amino acid chelate (Zinc 1.3 mg) 6.5 mg
*Consult your healthcare professional before use if you have had renal calculi (kidney stones). Ascorbic acid may increase the risk of recurrence of calcium oxalate calculi.
*May occasionally cause mild gastrointestinal symptoms.
*Use with caution if you suffer from asthma or allergies
*Always read the label. Use only as directed.
*If symptoms persist, see your healthcare professional.
Blackmores, a leading natural health brand, improves peoples' lives by delivering the world's best natural health solutions, to become peoples' first choice in healthcare. We achieve this by translating our unrivalled heritage and knowledge into innovative, quality branded healthcare solutions that work. Our high quality products, reliable free naturopathic advisory service and award-winning website are among the many reasons Blackmores is the most trusted name in natural health.