Blackmores Executive B Stress Formula 62 tablets
Blackmores Executive B Stress Formula contains vitamins, minerals and herbs to support the nervous system during times of ongoing stress, pressure and tension.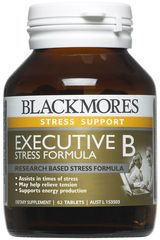 Specials are for online purchases only, don't miss out! -
Email
us to check for availability.
Features & Benefits:
*Supports the body's stress-coping mechanisms
*Combines nutrients that support and maintain the functioning of the nervous system and adrenal glands with herbs that have traditionally been taken in times of stress and tension
*Supports the conversion of food into energy


Additional Information:
Stress places a heavy load on the nervous system and adrenal glands, especially if it's prolonged or ongoing. This can result in the adrenal glands becoming 'exhausted' and may leave the individual feeling tired and 'stressed out'.

The normal function and maintenance of the nervous system relies on the presence of the B-group vitamins for the production of hormones and neurotransmitters. For example, vitamin B5 is important to the body's ability to cope with stress because it plays a central role in the functioning of the adrenal glands. Similarly, folic acid, inositol and vitamin B6 are involved in the manufacture and action of mood-supporting hormones such as serotonin.

The B-group vitamins also participate in the metabolic processes of all living cells by serving as coenzymes in the conversion of carbohydrates, proteins and fats from the diet into energy.

In Blackmores Executive B Stress Formula, these B-group vitamins are accompanied by other nutrients that support adrenal gland and nervous system function, including vitamin C, zinc and magnesium.

Stress, strenuous physical activity, and overindulgence in alcohol may all increase an individual's requirements for these nutrients, so supplementation may be beneficial in these circumstances.

Blackmores Executive B Stress Formula also contains the herbs passionflower and oats, which have traditionally been taken to support the nervous system during times of stress and are regarded as mild sedatives.
Adults - Take 1 tablet with breakfast and 1 tablet with lunch, or as professionally prescribed.

Children under 12 years - Only as professionally prescribed.
Active Ingredients:
Each Tablet Contains:

Vitamin B1 (Thiamine hydrochloride) 75 mg
Vitamin B2 (Riboflavin) 10 mg
Nicotinamide 100 mg
Vitamin B5 (Pantothenic acid from calcium pantothenate 75mg) 68.7 mg
Vitamin B6 (Pyridoxine hydrochloride) 25 mg
Vitamin B12 (Cyanocobalamin) 30 mg
Vitamin H (Biotin) 20 mg
Calcium ascorbate 145 mg
Ascorbic acid (Total Vitamin C 250mg) 130 mg
Vitamin E (d-alpha-Tocopheryl acid succinate 41.3 mg) 50 IU
Magnesium phosphate 140 mg
Calcium phosphate 100 mg
Potassium phosphate monobasic 117.3 mg
Folic acid 150 mg
Avena sativa (Oats) extract equiv. to dry seed
Passiflora incarnata (Passion flower) extract equiv. to dry herb 250 mg 100 mg
Lecithin 50 mg
Choline bitartrate 25 mg
Inositol 25 mg
*Contains gluten
*If symptoms persist, see your healthcare professional
*If you are pregnant or breastfeeding consult your healthcare professional before use
*Consult your healthcare professional before use if taking, or think you may be taking, a diuretic (fluid tablet).
*Magnesium and calcium may decrease absorption and efficacy of some medications. If taking tetracycline or quinolone antibiotics, bisphosphonates (osteoporosis drugs) or thyroid hormones, separate doses by at least 2 hours.