Blackmores Glucosamine Sulfate 1000 Tabs 90
Supporting joint comfort
High dose glucosamine in an easy-to-swallow 1000 mg tablet. Glucosamine is a key component of cartilage. It acts as a building block for the joints and helps maintain joint mobility and flexibility.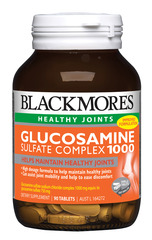 Specials are for online purchases only, don't miss out! -
Email
us to check for availability.
*Supports joint comfort and mobilty
*Contains the most scientifically validated form of glucosamine - glucosamine sulfate sodium chloride complex
*Results expected after 2-4 weeks

Glucosamine and sulfate are natural components found in the cartilage matrix and synovial fluid. Glucosamine is a major building block of the substances that together with protein form the structural units in cartilage. These structural units, called aggrecans, are important for the elasticity, resilience and shock-absorbing properties of cartilage. As we get older, 'wear and tear' causes degenerative changes in the cartilage and it becomes more susceptible to breakdown and damage. Ageing decreases the body's ability to restore and manufacture normal cartilage.
Adults - Take 2 easy swallow tablets once a day with a meal or as professionally prescribed.
Children under 12 years - Only as professionally prescribed.
Glucosamine sulfate sodium chloride complex
Equivalent to glucosamine sulfate 750 mg
1 g (1000 mg)
*Glucosamine is derived from seafood. Not recommended for people with seafood allergies.
*Contains approximately 166 mg sodium per daily dose
Blackmores, a leading natural health brand, improves peoples' lives by delivering the world's best natural health solutions, to become peoples' first choice in healthcare. We achieve this by translating our unrivalled heritage and knowledge into innovative, quality branded healthcare solutions that work. Our high quality products, reliable free naturopathic advisory service and award-winning website are among the many reasons Blackmores is the most trusted name in natural health.