Blackmores Irnmuno Shield Tabs 50
Supporting your protection against winter ills and chills
Blackmores Immuno Shield™ combines herbs and nutrients to support immunity and help maintain resistance to infection.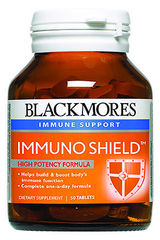 Specials are for online purchases only, don't miss out! -
Email
us to check for availability.
*Herbs and nutrients to support immunity and help maintain resistance to infection.
*Helps maintain healthy respiratory and digestive tract linings, which are important components of a healthy immune system.

Echinacea supports the body's resistance to infection via a number of mechanisms, including supporting the activities of a group of immune cells called phagocytes, whose role is to engulf and digest bacteria and other foreign bodies. Andrographis also supports the production and activity of key immune cells.
Garlic supports the body's defences against a number of bacteria and viruses.
Vitamin A is essential for the formation of healthy epithelial cells, such as the mucus-producing cells of the respiratory and digestive tracts, which act as one of the body's first lines of defence against infection.
Vitamin D supports optimal immune function and healthy immune resistance. Vitamin D3 is often called the 'sunshine vitamin' because it is manufactured in the skin through the action of sunlight. A significant number of New Zealanders are at risk of deficiency, especially if they have limited sun exposure.
Zinc and vitamin C are important for immunity and help maintain resistance to infection, which may be impaired if dietary intake of these nutrients is inadequate.
Adults - Ongoing immune support: Take 1 tablet daily with main meal.
Additional immune support when required: Take 1 tablet 3 times per day with meals, or as professionally prescribed.
Children - For children aged 4-12 years, we recommend Blackmores Immuno Shield Junior.
Echinacea purpurea (Echinacea)
extract equiv. to dry root and rhizome 600 mg
Echinacea angustifolia (Echinacea)
extract equiv. to dry root 300 mg
Andrographis paniculata (Andrographis)
extract equiv. to dry leaf
(standardized to contain andrographolides 25 mg) 1g (1000 mg)
Allium sativum (Garlic) deodorized freeze-dried powder
equiv. to fresh bulb
(standardized to contain alliin 1.3mg)
500 mg
166.7 mg
Vitamin A (Retinyl acetate 287 mcg) 833 IU
Vitamin B5 (Pantothenic acid from calcium pantothenate 18.6mg) 17 mg
Vitamin B6 (Pyridoxine hydrochloride) 17 mg
Vitamin C (Ascorbic acid) 250 mg
Vitamin D3 (Cholecalciferol 8.3mg) 333 IU
Vitamin E (d-alpha Tocopheryl acid succinate 40.5mg) 50 IU
Zinc amino acid chelate (Zinc 5mg) 25 mg
*If symptoms persist, see your healthcare professional.
*Discontinue at least 2 weeks prior to surgery (garlic may increase the risk of bleeding associated with surgery)
*Vitamin C may increase the risk of recurrence of calcium oxalate kidney stones. Consult your healthcare professional before use if you have had kidney stones.
Blackmores, a leading natural health brand, improves peoples' lives by delivering the world's best natural health solutions, to become peoples' first choice in healthcare. We achieve this by translating our unrivalled heritage and knowledge into innovative, quality branded healthcare solutions that work. Our high quality products, reliable free naturopathic advisory service and award-winning website are among the many reasons Blackmores is the most trusted name in natural health.