Blackmores Joint Formula Advanced Tabs 60
Supporting healthy cartilage and overall joint comfort
Blackmores Joint Formula Advanced is a dual action, extra strength formula combining the most scientifically validated form of glucosamine and high strength chondroitin.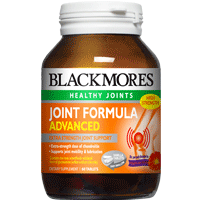 Specials are for online purchases only, don't miss out! -
Email
us to check for availability.
*Extra strength dual action formula
*Supports healthy cartilage
*Chondroitin provides nutrition and lubrication to healthy joints
*Contains the most scientifically validated form of glucosamine, glucosamine sulfate sodium chloride complex
*Contains the most commonly studied daily dose of chondroitin

The ingredients in Blackmores Joint Formula Advanced - glucosamine, chondroitin, manganese and boron - are research based and have been selected for overall joint health.

As we age, the 'wear and tear' effects of many years of using our joints can become apparent. This may cause degenerative changes in the cartilage. Glucosamine and sulfate are natural components of the cartilage matrix and synovial fluid. Glucosamine is a major building block of the substances that together with protein form the structural units in cartilage. These structural units, called aggrecan, are important for the elasticity, resilience and shock-absorbing properties of cartilage. Supplementary glucosamine sulfate as glucosamine sulfate sodium chloride complex supports healthy cartilage, joint mobility and comfort.

Research has shown that 1500 mg glucosamine sulfate as sodium chloride complex supports joint comfort and functionality. Glucosamine sulfate may also have a long-term protective effect.

Chondroitin, like glucosamine, is a natural component of cartilage. Chondroitin is also involved in the lubrication and nutrition of the joint, and helps the joints to resist compression.

Manganese and boron are minerals which appear to play roles in joint health. Manganese is essential for the production of cartilage and bone. Boron plays a role in the chemical make-up of bones and joints.

Proudly Supporting
Blackmores proudly supports Arthritis NZ, a not-for-profit organisation providing a range of services and support to all New Zealanders affected by arthritis. Visit www.arthritis.org.nz for more information.
Adults - Take 1 easy swallow tablet twice a day with meals or as professionally prescribed

Children under 12 years - Only as professionally prescribed.
Chondroitin sulfate-bovine sodium 95%
(Chondroitin sulfate sodium 400 mg) 421mg
Glucosamine sulfate sodium chloride complex
(Equivalent to glucosamine sulfate 750 mg 942mg
Manganese gluconate (Manganese 1 mg) 8.8mg
Borax (Boron 1 mg) 8.8mg
*Glucosamine is derived from seafood. Not recommended for people with seafood allergies.
*Contains approximately 228 mg sodium per daily dose
*May occasionally cause mild gastrointestinal symptoms
Blackmores, a leading natural health brand, improves peoples' lives by delivering the world's best natural health solutions, to become peoples' first choice in healthcare. We achieve this by translating our unrivalled heritage and knowledge into innovative, quality branded healthcare solutions that work. Our high quality products, reliable free naturopathic advisory service and award-winning website are among the many reasons Blackmores is the most trusted name in natural health.