Blackmores Kids Mineral Minds Tabs 60
Supporting
A mineral formula to support healthy brain development, mental clarity and focus in children. Children often have low levels of nutrients necessary for healthy development. Studies have shown that New Zealand school children have low levels of iodine, iodine deficiency may impair IQ and school performance.
Halal Certified.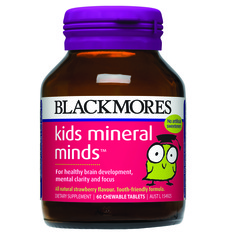 Specials are for online purchases only, don't miss out! -
Email
us to check for availability.
*Contains iodine which is necessary for IQ development
*Contains minerals to assits with school performace
*No artificial sweeteners
*Tooth-friendly formula
*Great tasting, chewable, strawberry flavoured tablet
*Helps with the metabolism of omega-3s
*For best results, Blackmores recommends that you use this product with Kids Fruity Fishies™

The development of the brain continues throughout childhood and adolescence and requires a steady supply of many nutrients including essential minerals. Mineral deficiencies are more common than is often believed and can negatively impact the development and function of the growing brain.
Iodine deficiency may be more common than most people realise. Studies on the effects of iodine deficiency in children conclude that iodine deficiency can lower the IQ of school-aged children by 13.5 points. Healthy iodine levels may help IQ development and school performance.
Iron is found in high levels in brain tissue, and has multiple roles in the function of neurotransmitters in the brain. Low blood iron levels have been linked to poorer maths performance in a large, nationwide study of over 5,000 American children.
Zinc helps to support concentration, reasoning and cognition in children. Low levels of zinc may be linked with reduced reading ability.
Magnesium is highly concentrated in brain tissue and is required for proper nerve function.
Other nutrients have a vital role to play in the developing brain. Vitamin B12 is required for proper nerve development. Vitamin C, as well as assisting in iron absorption, is involved with the synthesis of neurotransmitters. Zinc and vitamin B6 have a role in the metabolism of essential fatty acids including EPA and DHA which are found in fish oil.
Children 2-6 years- Chew (do not swallow whole) 1 tablet a day with a meal, or as professionally prescribed. Not suitable for children under 2 years
Children 7-12 years- Chew (do not swallow whole) 2 tablets a day with a meal, or as professionally prescribed. Not suitable for children under 2 years
Not suitable for children under 2 years.
Vitamin B6 (Pyridoxine hydrochloride) 3 mg
Vitamin B12 (Cyanocobalamin) 50 mg
Vitamin C (Ascorbic acid from calcium ascorbate dihydrate 30.3 mg) 25 mg
Folic acid 100 mg
Potassium iodide (Iodine 75 mg) 98.3 mg
Ferrous fumarate (Iron 5mg) 25.4mg
Magnesium oxide 56.5 mg
Magnesium oxide heavy 1.49 mg
(total equiv. magnesium 35 mg)
Zinc oxide (Zinc 4 mg) 5 mg
*Always read the label. Use only as directed.
Blackmores, a leading natural health brand, improves peoples' lives by delivering the world's best natural health solutions, to become peoples' first choice in healthcare. We achieve this by translating our unrivalled heritage and knowledge into innovative, quality branded healthcare solutions that work. Our high quality products, reliable free naturopathic advisory service and award-winning website are among the many reasons Blackmores is the most trusted name in natural health.