Blackmores Kids Multi Chewable Tabs 60
Supporting your child's healthy growth and development
Blackmores Kids Multi is specially formulated to support children's healthy growth and development - so you can be sure your kids are getting the nutrients they need, even if they're fussy eaters.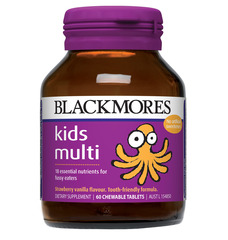 Specials are for online purchases only, don't miss out! -
Email
us to check for availability.
*Bridges the gaps in important vitamins and minerals that may result from fussy eating
*Supports healthy bone development
*Supports the conversion of food into energy
*No artificial sweeteners
*Great tasting, chewable, strawberry-vanilla flavoured tablet
*Tooth-friendly formula
*Suitable for children aged 2 to 12 years

A 2008 review of children's eating habits concluded that many children don't consume the recommended quantities of fruit and vegetables, and therefore may be missing out on the micronutrients and fibre they need for normal, healthy development.
In particular, fussy eaters tend to eat lower quantities of foods containing vitamin E, vitamin C, folate and fibre, (probably due to their lower consumption of fruits and vegetables), and so may be at risk of essential nutrient deficiency.
The B-group vitamins play a vital role in the metabolic processes of all living cells by serving as coenzymes in the conversion of carbohydrates, proteins and fats from the diet into energy.
Vitamin C is a powerful antioxidant that is important for the healthy functioning of the immune system. It is also required for the growth and repair of collagen-based structures, such as children's skin, cartilage, ligaments and tendons.
Vitamin D is needed throughout life to support the absorption and utilisation of calcium, and is important for building and maintaining strong healthy bones.
Zinc is involved in many aspects of immunity and resistance to infection. Along with vitamin D it is an essential nutrient for children's bone health. Zinc may also play an important role in children's cognitive function, as well as helping to support concentration and mental performance.
Iodine supports cognitive development and IQ, and is required for the normal functioning of the thyroid gland.
Children 2-6 years - Chew (do not swallow whole) 1 tablet a day with a meal, or as professionally prescribed.
Children 7-12 years - Chew (do not swallow whole) 2 tablets a day with a meal, or as professionally prescribed.
Not suitable for children under 2 years.
Vitamin A (Retinyl acetate 200mg) 582.5 IU
Vitamin B1 (Thiamine nitrate) 350 mg
Vitamin B2 (Riboflavine) 550 mg
Nicotinamide (Vitamin B3) 6 mg
Vitamin B5 (Pantothenic acid from Calcium pantothenate 1.6 mg) 1.5 mg
Vitamin B6 (Pyridoxine hydrochloride) 650 mg
Vitamin B12 (Cyanocobalamin) 750 mg
Folic acid 50 mg
Vitamin C (from ascorbic acid 10mg and sodium ascorbate 11.3mg) 20 mg
Vitamin D3 (Cholecalciferol 2.5 mg) 100 IU
Natural Vitamin E (d-alpha-tocopheryl acid succinate 12.4 mg) 15 IU
Biotin 25 mg
Calcium hydrogen phosphate anhydrous (Calcium 5 mg) 17 mg
Potassium iodide (Iodine 75 mg) 98.3 mg
Ferrous fumarate (Iron 1.3 mg) 3.8 mg
Magnesium phosphate (Magnesium 5 mg) 24.2 mg
Manganese amino acid chelate (Manganese 12.5 mg) 125 mg
Zinc oxide (Zinc 1mg) 1.2 mg
Blackmores, a leading natural health brand, improves peoples' lives by delivering the world's best natural health solutions, to become peoples' first choice in healthcare. We achieve this by translating our unrivalled heritage and knowledge into innovative, quality branded healthcare solutions that work. Our high quality products, reliable free naturopathic advisory service and award-winning website are among the many reasons Blackmores is the most trusted name in natural health.