Blackmores Lutein-Vision Advanced Tabs 60
Supporting a healthy macular region of the eye
Blackmores Lutein-Vision Advanced™ is a macular defence formula, based on the latest scientific eye research, containing lutein and zeaxanthin (supportive to the macular area of the eye).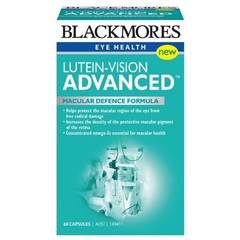 Specials are for online purchases only, don't miss out! -
Email
us to check for availability.
*Supports healthy vision in ageing
*Supports a protective macular pigment
*May help protect the macular region of the eye from free radical damage.
*Contains omega-3 fatty acids important for eye health.
*A percentage of the sales from Lutein-Vision Advanced™ supports Macular Degeneration New Zealand.

Lutein and zeaxanthin
Lutein and zeaxanthin are carotenoids found in the human eye. The highest concentration is found in the macular area of the retina.

The macula is responsible for central vision. Our ability to recognise faces, read, drive, see colours and contrast are all dependent on a healthy macula.

In the macula, lutein and zeaxanthin support a natural layer of yellow pigment called the macular pigment. This pigment serves as an effective natural filter of the most damaging light (near-to-UV blue light) that reaches the retina. A dense macular pigment is more protective than one of low density.

In addition to supporting pigment density, lutein and zeaxanthin function as antioxidants, helping to protect a healthy retina and lens of the eye.

Selenium
Lutein-Vision Advanced™ contains selenium as selenomethionine, an easily absorbed form of selenium. Selenium plays an important role in the body's antioxidant system.

Omega-3 fatty acids
Several studies have found that higher intakes of omega-3 fatty acids and fish are associated with good eye health. Very high levels of polyunsaturated fatty acids, particularly DHA (docosahexaenoic acid), are present in the retina, specifically in photoreceptor cells and the vascular part of the retina.

The photoreceptors are constantly being renewed and therefore a constant supply of DHA may be required for proper retinal function.

Proudly Supporting
Blackmores proudly supports Macular Degeneration New Zealand, a not-for-profit organisation providing a range of services and support to all New Zealanders affected by MD. Visit www.mdnz.org.nz for more information.
Adults - take 2 capsules a day with meals, or as professionally prescribed.

Children - under 12 years only as professionally prescribed.
Tagetes erecta (Marigold) extract equiv to dry flower (standardised to contain lutein esters calculated as lutein 5 mg) 500 mg
Selenomethionine (Selenium 50 mg) 122 ug
Zeaxanthin 1 mg
Concentrated omega-3 triglycerides-fish
Containing omega-3 marine triglycerides 500 mg as:
Eicosapentaenoic acid (EPA) 325 mg
Docosahexaenoic acid (DHA) 175 mg
850 mg
*This product contains selenium which is toxic in high doses. A daily dose of 150 mg for adults of selenium from dietary supplements should not be exceeded.
*If you are pregnant or breastfeeding consult your healthcare professional before use.
Blackmores, a leading natural health brand, improves peoples' lives by delivering the world's best natural health solutions, to become peoples' first choice in healthcare. We achieve this by translating our unrivalled heritage and knowledge into innovative, quality branded healthcare solutions that work. Our high quality products, reliable free naturopathic advisory service and award-winning website are among the many reasons Blackmores is the most trusted name in natural health.