Blackmores Magnesium Powder 150g
Supporting the production of energy during exercise
Blackmores Magnesium Powder provides an easily absorbed form of magnesium. This formula also contains amino acids and B vitamins to assist with the production of energy during exercise. Blackmores Magnesium Powder may help with muscular tension and is available in a great tasting orange flavour that contains no artificial flavours, colours or sweeteners.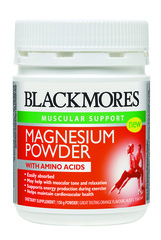 Specials are for online purchases only, don't miss out! -
Email
us to check for availability.
*Easily absorbed
*May help with muscular tone and relaxation
*Supports energy production during exercise
*Helps maintain cardiovascular health
*Great tasting orange flavour

Magnesium is essential for many cellular functions, particularly those functions involved in energy production, and for the normal functioning of muscle and nerve tissue. Signs of low magnesium levels can include fatigue, mental confusion, irritability, muscle tension, problems with nerve conduction and muscle contraction, sleep problems and predisposition to stress.
If the blood is low in magnesium it takes it from the muscles and without enough magnesium in muscles they stiffen up or contract. Some people may develop muscle discomfort at rest, while others develop discomfort at night, along with a difficulty sleeping.
Blackmores Magnesium Powder contains a highly absorbable form of magnesium to enhance cellular uptake.
Blackmores Magnesium Powder also contains a range of other ingredients including amino acids which are important for energy production, muscle function and repair:
Taurine plays a role in maintaining healthy cardiovascular function
Glutamine - Exhaustive exercise or intense training sessions decrease glutamine in the blood.
L-carnitine is required for cellular energy production.
Vitamin C, folate and B12 are involved in the maintenance and repair of muscle tissue
B vitamins are involved in the production of energy from food. Exercise may increase the need for B complex vitamins.
Chromium helps to maintain normal glucose metabolism and balance sugar levels in the body.
Adults: Add 5 g (1 metric heaped teaspoon) to cold beverages. Stir and serve. Take once daily with meals or as professionally described.
Children 6-12 years: We recommend Blackmores Magnesium Compound
Magnesium citrate (Magnesium 310 mg) 2 g
Taurine 500 mg
Glutamine 500 mg
Levocarnitine tartrate (Levocarnitine 100 mg) 147 mg
Calcium hydrogen phosphate anhydrous (Calcium 65 mg) 223.4 mg
Vitamin C (Ascorbic acid) 100 mg
Vitamin B1 (Thiamine nitrate) 25 mg
Vitamin B2 (Riboflavin) 5 mg
Nicotinamide 25 mg
Vitamin B5
(Pantothenic acid from calcium pantothenate 50 mg) 45.8 mg
Vitamin B6 (Pyridoxine hydrochloride) 50 mg
Vitamin B12 (Cyanocobalamin) 20 mg
Folic acid 150 mg
Selenomethionine (as Selenium 25 mg) 62.5 mg
Potassium aspartate (Potassium 75 mg) 362.3 mg
Chromium nicotinate (Chromium 50 mg) 400 mg
This product contains selenium which is toxic in high doses. A daily dose of 150 mg for adults of selenium from dietary supplements should not be exceeded.
Blackmores, a leading natural health brand, improves peoples' lives by delivering the world's best natural health solutions, to become peoples' first choice in healthcare. We achieve this by translating our unrivalled heritage and knowledge into innovative, quality branded healthcare solutions that work. Our high quality products, reliable free naturopathic advisory service and award-winning website are among the many reasons Blackmores is the most trusted name in natural health.