Blackmores Metabolism Advantage Tabs 90
Supporting your metabolism while you're dieting
Specially formulated to support metabolism during weight-loss programs (which often lead to reduced levels of key nutrients) and to supply nutrients involved in the conversion of food into energy.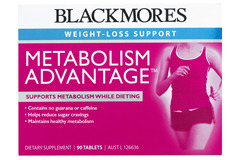 Specials are for online purchases only, don't miss out! -
Email
us to check for availability.
*Specially formulated to provide nutritional support for people on calorie-controlled or other weight loss diets
*Supports metabolism and helps maintain thyroid function
*Supports the conversion of fat, protein, and carbohydrates into energy
*Supports the body's processes for fat breakdown
*Does not contain caffeine or guarana

Blackmores Metabolism Advantage™ has been specially formulated to support the metabolism and supplement nutrient intake during weight-loss programs.
It also helps to support the production of energy by assisting in the metabolism of fat, proteins, sugar and other carbohydrates.
Weight-loss diets are often low in nutrients that support metabolism, including folic acid, magnesium, iron, vitamin D, zinc and some B vitamins; many of these nutrients are also involved in energy production.
The trace minerals iodine and selenium are required for the healthy functioning of the thyroid gland, which is one of the main regulators of metabolic rate.
Iron is also involved in thyroid function, and additionally is important for energy production. Many people don't obtain the recommended dietary intake of iron from their diets, and this may be exacerbated during dieting, resulting in lowered energy, decreased exercise capacity, and reduced thyroid function.
Weight-loss diets are commonly low in calcium, which supports the body's processes for breaking down fat in cells. If calcium levels are low, the burning of fats for energy may decrease or be inhibited.
To provide extra support for people on weight loss programs, Blackmores Metabolic Advantage™ combines these nutrients with the herbs coleus and capsicum, which have both traditionally been regarded as digestive tonics that support metabolism.

Adults - Take 1 tablet with each meal, or as professionally prescribed.
Children under 12 years - Only as professionally prescribed
Vitamin E (d-alpha-Tocopheryl acid succinate 20.7mg) 25IU
Vitamin C (Ascorbic acid) 40mg
Vitamin B1 (Thiamine nitrate) 10mg
Vitamin B2 (Riboflavin) 10mg
Nicotinamide 20mg
Vitamin B5 (Pantothenic acid from calcium pantothenate 15mg) 13.76mg
Vitamin B6 (Pyridoxine hydrochloride) 10mg
Vitamin B12 (Cyanocobalamin) 20mcg
Vitamin D3 (Cholecalciferol 3.35mcg) 134IU
Folic acid 70mcg
Betacarotene (from Dunaliella salina extract equiv. to fresh cell 12mg) 500mcg
Calcium hydrogen phosphate (Calcium 80mg) 343mg
Magnesium oxide-heavy (Magnesium 40mg) 70mg
Zinc amino acid chelate (Zinc 4mg) 20mg
Ferrous fumarate (Iron 5mg) 15.7mg
Manganese amino acid chelate (Manganese 700mcg) 7mg
Cupric sulfate anhydrous (Copper 300mcg) 756mcg
Chromium picolinate (Chromium 15mcg) 121mcg
Chromic chloride (Chromium 15mcg) 78.5mcg
Selenomethionine (Selenium 8mcg) 19.84mcg
Potassium iodide (Iodine 40mcg) 52.4mcg
Capsicum annuum (Capsicum) extract equiv. to dry fruit 40mg
Coleus forskohlii (Coleus) extract equiv. to dry root
(standardised to contain forskolin 5.88mg) 2g (2000mg)
*Not recommended for use during pregnancy and breast-feeding.
*Always use the label, use only as directed.
*Vitamin supplements should not replace a balanced diet.
*This product contains selenium which is toxic in high doses. A daily dose of 150_ for adults of selenium form dietary supplements should not exceed.
Blackmores, a leading natural health brand, improves peoples' lives by delivering the world's best natural health solutions, to become peoples' first choice in healthcare. We achieve this by translating our unrivalled heritage and knowledge into innovative, quality branded healthcare solutions that work. Our high quality products, reliable free naturopathic advisory service and award-winning website are among the many reasons Blackmores is the most trusted name in natural health.