Blackmores Milk Thistle Tabs 42
Supporting protect your liver
Blackmores Milk thistle aids normal liver function and may help protects liver cells. It has antioxidant activity. It also supports regeneration of liver cells.
Halal certified.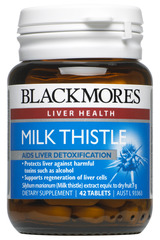 Specials are for online purchases only, don't miss out! -
Email
us to check for availability.
*Standardised potency
*High dosage preparation

The major action of milk thistle is on the liver. The liver performs an incredible number of functions in the body. The major functions of the liver include the production of bile and the metabolism of carbohydrates, proteins, vitamins, fats and many other compounds used by the body. It also metabolises drugs and detoxifies numerous ingested substances such as alcohol, as well as toxins produced by the body.
Milk thistle supports the liver and has an antioxidant and free radical scavenging action. This action appears to be largely due to the action of the active constituents in milk thistle which are a complex of flavanolignans collectively called silymarin.
Silymarin can help protect the liver against toxins that cause liver damage, as well as stimulate the replacement of old and damaged cells with new liver cells.
Adults - Take 1 tablet 3 times a day before meals, or as professionally prescribed.
Children under 12 years - Only as professionally prescribed.
Active ingredient per 724 mg tablet:
Milk thistle (Silybum marianum) extract 100 mg
equiv. to dry fruit 7000 mg
(standardised to contain flavanolignans 84 mg)
*May occasionally cause a mild laxative effect
Blackmores, a leading natural health brand, improves peoples' lives by delivering the world's best natural health solutions, to become peoples' first choice in healthcare. We achieve this by translating our unrivalled heritage and knowledge into innovative, quality branded healthcare solutions that work. Our high quality products, reliable free naturopathic advisory service and award-winning website are among the many reasons Blackmores is the most trusted name in natural health.