Blackmores Natural E 1000IU Caps 30
Supporting heart & blood vessels in a high potency capsule
Super-strength natural vitamin E to help maintain heart and blood vessel health by supporting antioxidant defences against the oxidation of LDL-cholesterol ("bad" cholesterol).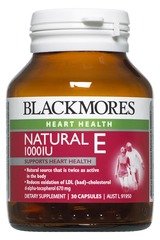 Specials are for online purchases only, don't miss out! -
Email
us to check for availability.
*A source of natural vitamin E, which has approximately twice the bioavailability of synthetic vitamin E, so is retained longer and is twice as active in the body
*Potent antioxidant - supports the body's defences against free radicals
*Helps maintain heart and blood vessel health via an antioxidant effect on LDL-cholesterol ("bad" cholesterol)
*Super-strength, one-a-day dose

Free radicals are common in the body, arising through a variety of mechanisms. Some free radicals are generated naturally during normal day-to-day living. However pollutants, sun, alcohol, cigarette smoke and some medications can generate an excess of free radicals, and this can interfere with the cells' ability to function normally.
Antioxidants are nutrients that help to offset the effects of free radicals. Vitamin E is a potent fat-soluble dietary antioxidant that supports the body's antioxidant defences and acts as a free radical scavenger.
It is incorporated into the cell membranes and helps maintain their integrity throughout the body. For example, it helps maintain the health of the heart and blood vessels by supporting antioxidant defences against free radical actions on artery walls, fat molecules and LDL-cholesterol ("bad" cholesterol).
Adults - Take 1 capsule once a day with a meal, or as professionally prescribed.
Not suitable for children under 12 years.
Natural vitamin E (d-alpha-Tocopherol 670 mg) 1000 IU
*Contains sodium sulfite.
Blackmores, a leading natural health brand, improves peoples' lives by delivering the world's best natural health solutions, to become peoples' first choice in healthcare. We achieve this by translating our unrivalled heritage and knowledge into innovative, quality branded healthcare solutions that work. Our high quality products, reliable free naturopathic advisory service and award-winning website are among the many reasons Blackmores is the most trusted name in natural health.