Blackmores NutriMulti Tabs 50
Supporting optimum nutrition with wholefood nutrients
The latest advancement in multivitamins from Blackmores! More complete nutritional support in a dual layer tablet that combines essential vitamins, minerals, antioxidants and wholefood nutrients.
Halal Certified.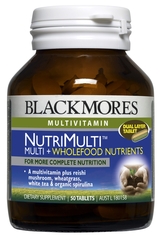 Specials are for online purchases only, don't miss out! -
Email
us to check for availability.
Dual layer tablet
*One layer contains vitamins, minerals and antioxidants
*The other layer has wholefood nutrients that contain phytonutrients (usually found in fresh fruit and vegetables and are beneficial for the maintenance of good health).
*For more complete nutritional support. Provides nutrients (Vitamin B1, B2, B3, B5, B6, B12, C & Folate) which supports the cells in your body.
It includes organic spirulina, which is a rich source of protein and betacarotene, reishi mushroom, wheatgrass and white tea
The wholefood nutrients layer contains phytonutrients which are not easily found in other multivitamins
Provides a rich supply of nutrients to help the cells in your body perform their job
Supports cellular energy production and everyday health

Spirulina are blue-green micro-algae that are a natural and rich source of nutrients, including vitamins, minerals, protein and phytonutrients (phycocyanin and chlorophyll). Spirulina is a rich source of carotenoids, especially betacarotene.
Wheat grass is a "green food" source of chlorophyll, vitamins, minerals, proteins and enzymes. Despite its name, wheatgrass is gluten free and can be used by people with gluten intolerance.

White tea leaves are picked before they open fully, when the buds are still covered in fine, white hairs, lending to the appearance of white tea. White tea is a rich source of polyphenols which have antioxidant and free radical scavenging properties.

Reishi mushroom has been renowned in China for thousands of years. It is held in high regard in Asia.
Adults - Take 1 tablet a day with a meal or as professionally prescribed.
Children under 12 years - We recommend Blackmores Kids Multi.
Multivitamins & minerals layer
Thiamine nitrate (Vit. B1) 1.5 mg
Riboflavine (Vit. B2) 1.7 mg
Nicotinamide 20 mg
Pantothenic acid from calcium pantothenate 6.54 mg (Vit. B5) 6 mg
Pyridoxine hydrochloride (Vit. B6) 2 mg equiv. pyridoxine 1.65 mg
Cyanocobalamin (Vit. B12) 2 μg
Folic acid 200 μg
Ascorbic acid (Vit. C) 60 mg
Cholecalciferol 5 μg (Vit. D3) 200 IU
d-alpha-tocopheryl acid succinate (Vit. E) 10 mg
Biotin 150 μg
Calcium carbonate (Calcium 80 mg) 200 mg
Magnesium oxide-heavy (Magnesium 40 mg) 70 mg
Zinc sulfate monohydrate (Zinc 7 mg) 19.4 mg
Ferrous fumarate (Iron 5 mg) 25.35 mg
Manganese sulfate monohydrate (Manganese 2 mg) 6.16 mg
Cupric sulfate anhydrous (Copper 1 mg) 2.52 mg
Chromium picolinate (Chromium 50 μg) 403 μg
Potassium iodide (Iodine 150 μg) 197 μg
Yeast-high selenium (Selenium 50 μg) 50 mg
Wholefood Nutrients layer
Dunaliella salina conc. ext. equiv. fresh 36.7 mg
(contains carotenoids calculated as betacarotene 1.5 mg)
Triticum aestivum leaf (Wheatgrass) conc. ext. equiv. dry leaf 750 mg
Ganoderma lucidum (Reishi mushroom) conc. ext. equiv. dry fruiting body 500 mg
Arthrospira platensis (Spirulina) powder 300 mg
Camellia sinensis leaf (White tea) conc. ext. equiv. dry leaf 150 mg (contains 2.5 mg caffeine)
Magnesium oxide-heavy (Magnesium 20 mg) 35 mg
Calcium carbonate (Calcium 40 mg) 100 mg
No added gluten, milk derivatives, artificial colours, flavours or sweeteners
*Vitamin supplements should not replace a balanced diet.
*If you are pregnant or breastfeeding consult your healthcare professional before use.
*This product contains selenium which is toxic in high doses. A daily dose of 150 μg for adults of selenium from dietary supplements should not be exceeded.
Blackmores, a leading natural health brand, improves peoples' lives by delivering the world's best natural health solutions, to become peoples' first choice in healthcare. We achieve this by translating our unrivalled heritage and knowledge into innovative, quality branded healthcare solutions that work. Our high quality products, reliable free naturopathic advisory service and award-winning website are among the many reasons Blackmores is the most trusted name in natural health.