Blackmores Omega Daily 90
Supporting optimal omega-3 levels in a one-a-day dose
Concentrated omega-3 fatty acids for people who don't eat enough fish. Omega-3s are important building blocks of every cell in the human body and are essential for normal health and development.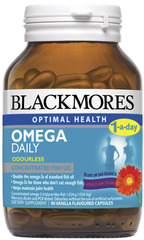 Specials are for online purchases only, don't miss out! -
Email
us to check for availability.
*Contains double the omega-3s of standard fish oil
*Supports optimal health and wellbeing
*Low odour, without the use of artificial surfactants
*Fish oil is tested for mercury, dioxins, PCBs and heavy metals

Blackmores Omega Daily is a source of concentrated omega-3 fatty acids derived from fish oil.
Fatty acids are incorporated into every cell membrane in the body in the form of compounds called phospholipids. Cell membranes play the vital role of regulating what goes into, and what comes out of, each cell. For example, when a cell membrane is functioning optimally, it retains vital nutrients and electrolytes, has the ability to communicate with other cells, and is responsive to hormones.
The types of phospholipids present in the body influence the integrity and fluidity of the cell membranes. Cell membranes that are predominantly comprised of phospholipids from essential fatty acids such as those found in Blackmores Omega Daily function more effectively than those derived from saturated fats or trans fatty acids.
Omega-3 fatty acids like those found in Blackmores Omega Daily are used in the production of leukotrienes and prostaglandins - compounds that are important in the body's processes for dealing with inflammation and swelling in the joints, skin and other tissues. In this way, they support the healthy functioning, flexibility and mobility of the joints, and help maintain healthy skin.
Fish oil also supports a healthy cardiovascular system by helping to maintain appropriate levels of triglycerides (fats) in the blood, and by helping to maintain appropriate blood viscosity (thickness).

Proudly Supporting
Blackmores proudly supports Arthritis NZ, a not-for-profit organisation providing a range of services and support to all New Zealanders affected by arthritis. Visit www.arthritis.org.nz for more information.
Adults - Take 1 capsule a day with a meal, or as professionally prescribed.
Children 6-12 years - Take 1 capsule a day (pierce and squeeze into milk, juice or cereal), or as professionally prescribed.
Children 2-6 years - Only as professionally prescribed.
Concentrated omega-3 triglycerides-fish 1.034 g (1034 mg)
containing omega-3 marine triglycerides 600mg as:
Eicosapentaenoic acid (EPA)
Docosahexaenoic acid (DHA)
351.7 mg
248.3 mg
*If symptoms persist, see your healthcare professional.
*Always read the label. Use only as directed.
Blackmores, a leading natural health brand, improves peoples' lives by delivering the world's best natural health solutions, to become peoples' first choice in healthcare. We achieve this by translating our unrivalled heritage and knowledge into innovative, quality branded healthcare solutions that work. Our high quality products, reliable free naturopathic advisory service and award-winning website are among the many reasons Blackmores is the most trusted name in natural health.