Blackmores Pregnancy & Breast-Feeding Gold Caps 60
Supporting mother & baby during pregnancy & breast-feeding
A premium pregnancy multivitamin that's been specially formulated to support optimal intake of the essential vitamins, minerals and oils a woman requires during pregnancy and breast-feeding.
Halal Certified.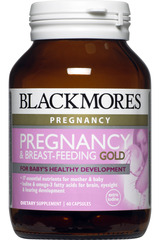 Specials are for online purchases only, don't miss out! -
Email
us to check for availability.
*Specially formulated to be suitable for use throughout pregnancy and breast-feeding
*Contains iodine, which is important for baby's eyesight, hearing and brain development
*Contains folic acid to support healthy development of baby's nervous system - especially during the early stages of pregnancy
*Provides vitamin D3 to support calcium absorption and baby's healthy bone development
*Provides fish oil, a source of the omega-3 fatty acid DHA to support the healthy development of baby's brain and eyesight
*Fish oil is tested for mercury, dioxins, PCBs and heavy metals
Pregnancy website:
Access our pregnancy discussion groups, pregnancy timeline, due date calendar, belly gallery and more. www.blackmoresnz.co.nz/communities/pregnancy-and-preconception

Blackmores Pregnancy & Breast-feeding Gold has been specially formulated to provide nutrients that support a mother's health as well as that of her developing baby.
Iodine supports a healthy pregnancy. It is required for the synthesis of thyroid hormones, which affect almost every cell in the body and regulate oxygen use, metabolic rate and cellular metabolism. Iodine and thyroid hormones are important for the health of children's skeletal, muscular and nervous systems, and for babies' brain, eyesight and hearing development
Omega-3 long chain fatty acids are essential for babies' health. DHA is the predominant long chain fatty acid in breast milk and is also found in fish oil. It supports the normal healthy functioning of your baby's brain and nerves and normal eyesight development
Folic acid (also known as folate) plays a role in the synthesis of genetic material (DNA and RNA), and is required for cellular division. Foetal cells undergo constant cell division, so women require increased levels of folate during pregnancy, and especially in the early days after conception, which are critical for the healthy development of baby's nervous system
Calcium and magnesium are essential for bone health, and play important roles in healthy muscle and nerve function
Vitamin D3 supports calcium absorption and is essential for building and maintaining healthy bones. Low vitamin D levels are common in women during pregnancy
Iron is a component of haemoglobin, so it's essential for the formation of red blood cells and helps maintain energy levels. Early foetal brain development also requires adequate iron. Many New Zealand women don't obtain the recommended amount of iron from their diets, and this situation may be exacerbated by the increased iron requirements of pregnancy
Zinc is essential to good health as it is involved in enzymatic reactions in every cell of the body. Adequate levels of zinc are vital for a healthy baby's normal growth and development
B-group vitamins play an essential role in baby's growth
Adults - Take 2 capsule daily with food, or as professionally prescribed
Omega-3
Fish oil - natural
containing omega-3 marine triglycerides 160mg as:
Docosahexaenoic acid (DHA)125mg
Eicosapentaenoic acid (EPA) 25mg 500 mg
10 Vitamins
Vitamin B1 (Thiamine nitrate) 500 mcg
Vitamin B2 (Riboflavin) 750 mcg
Nicotinamide 7.5 mg
Vitamin B6 (Pyridoxine hydrochloride) 750 mcg
Vitamin B12 (Cyanocobalamin) 1.5 mcg
Folic acid 250 mcg
Vitamin E (d-alpha-Tocopherol 3.5 mg) 5.2 IU
Vitamin C (Ascorbic acid) 30 mg
Vitamin D3
(Cholecalciferol 6.25mcg) 250 IU
Mixed carotenoids
(as Dunaliella salina (natural source) extract equiv. to fresh cell 72mg) 2.88mg
6 Minerals
Calcium* 59mg
Phosphorus*
*(as calcium hydrogen phosphate anhydrous 200mg) 45.6mg
Magnesium
(as magnesium oxide - heavy 49.8mg) 30mg
Iron
(as ferrous fumarate 15.7mg) 5mg
Zinc
(as zinc sulfate monohydrate 22.2mg) 8mg
Iodine
(as potassium iodide 98.3 mg) 75 mg
If you have had a baby with a neural tube defect you should seek specific medical advice.
Consult your healthcare professional before use if suffering from a thyroid condition.
Always read the label. Use only as directed.
Vitamin supplements should not replace a balanced diet.
Blackmores, a leading natural health brand, improves peoples' lives by delivering the world's best natural health solutions, to become peoples' first choice in healthcare. We achieve this by translating our unrivalled heritage and knowledge into innovative, quality branded healthcare solutions that work. Our high quality products, reliable free naturopathic advisory service and award-winning website are among the many reasons Blackmores is the most trusted name in natural health.