Blackmores Sustained Release C Tabs 75
Supporting your immune system throughout the day
Provides a gradual supply of vitamin C throughout the day. Vitamin C is an antioxidant that is important for immunity and supports wound healing, skin elasticity, and blood vessel health.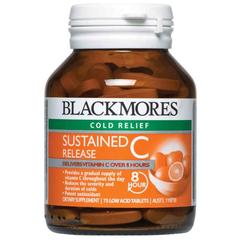 Specials are for online purchases only, don't miss out! -
Email
us to check for availability.
*Releases nutrients slowly over a sustained eight-hour period, so vitamin C is available when your body needs it
*Low-acid formulation buffered with mineral ascorbates to make it gentle on the stomach
*Contains citrus bioflavonoids to support the action of vitamin C in the body
*Supports immunity and helps maintain resistance to infection
*Supports wound healing and helps maintain healthy, supple, elastic skin
*Potent antioxidant - supports the body's defences against free radicals
*Helps maintain capillary health

Blackmores Sustained Release C releases vitamin C gradually over an eight-hour period. This low-acid vitamin C formulation is buffered with mineral ascorbates to make it gentle on the stomach, and also contains citrus bioflavonoids.
The human body does not manufacture its own vitamin C, so we must obtain it from our diets. If dietary intake is inadequate or an individual's need is particularly high (for example during times of stress or illness), taking a vitamin C supplement can help maintain optimal intake.
Vitamin C is a potent antioxidant that is involved in hundreds of the body's biological processes.
It supports immunity and helps maintain resistance to infection due to its involvement in the normal healthy functioning of the white blood cells and antibodies.
Vitamin C is also required for the manufacture of collagen (a structural component of the skin, cartilage and tendons), so it plays an important role in the body's wound healing processes, and in maintaining the elasticity and suppleness of the skin.
The blood vessels also contain collagen, so vitamin C is essential to their structure and function too. Its role here is supported by citrus bioflavonoids, compounds that are related to vitamin C and that support the integrity and functioning of the capillaries.
Adults - Take 1 tablet 1 to 2 times a day with meals, or as professionally prescribed.
Children 4-12 years - We recommend Blackmores Bio C Chewable 500mg.
Not to be used by children under 4 years of age without medical advice.
Ascorbic acid 280 mg
Calcium ascorbate 266 mg
(Total vitamin C 500 mg)
Citrus bioflavonoids extract 25 mg
Hesperidin 25 mg
Rosa canina (Rosehips) extract equiv. to dry fruit 250 mg
Rutin 50 mg
*Consult your healthcare professional before use if you have had renal calculi (kidney stones). Ascorbic acid may increase the risk of recurrence of calcium oxalate calculi.
*Always read the label. Use only as directed.
*If symptoms persist, see your healthcare professional.
Blackmores, a leading natural health brand, improves peoples' lives by delivering the world's best natural health solutions, to become peoples' first choice in healthcare. We achieve this by translating our unrivalled heritage and knowledge into innovative, quality branded healthcare solutions that work. Our high quality products, reliable free naturopathic advisory service and award-winning website are among the many reasons Blackmores is the most trusted name in natural health.