Blackmores Sustained Release Multi Antioxidant 175 Tabs
A comprehensive multivitamin designed with a unique sustained release technology which delivers a supply of 24 important nutrients plus antioxidants gradually throughout the day.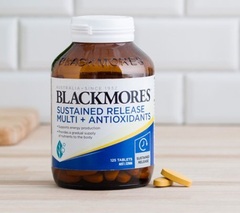 Specials are for online purchases only, don't miss out! -
Email
us to check for availability.
Provides a gradual supply of 24 nutrients to the body
Supports energy production
Supports healthy immune system function
Supports B-vitamin and chromium levels in the body
Helps reduce free radical damage to body cells
Supports nervous system function
Supports general health & wellbeing
1 tablet a day with a meal or as professionally prescribed

Vitamin A (Retinyl acetate 860 mcg)
(750 ug retinol equivalents) 2500 IU
Vitamin B1 (Thiamine nitrate) 30 mg
Vitamin B2 (Riboflavin) 10 mg
Nicotinamide 30 mg
Vitamin B5 (Pantothenic acid from calcium pantothenate 31.5 mg) 28.9 mg
Vitamin B6 (Pyridoxine hydrochloride) 30 mg
Vitamin B12 (Cyanocobalamin) 50 mg
Vitamin C (Ascorbic acid) 150 mg
Vitamin D3 (Cholecalciferol 5 mg) 200 IU
Natural vitamin E (d-alpha-tocopheryl acid succinate 20.7 mg) 25 IU
Vitamin H (Biotin) 100 mg
Folic acid 400 mg
Selenomethionine (Selenium 65 mg) 161.5 mg
Calcium phosphate (Calcium 17.4 mg) 46.9 mg
Magnesium Phosphate (mangesium 10mg) 48.4mg
Zinc sulfate monohydrate (Zinc 6 mg) 16.5 mg
Potassium sulfate (Potassium 5 mg) 11.1 mg
Ferrous fumarate (Iron 5 mg) 16 mg
Manganese sulfate monohydrate (Manganese 1 mg) 3.1 mg
Cupric sulfate pentahydrate (Copper 200 mg) 786 mg
Chromic chloride (Chromium 200 mg) 1 mg
Potassium iodide (Iodine 100 mg) 131 mg
Inositol 50 mg
Borax (Boron 2 mg) 17.6 mg
Always read the label
Follow the directions for use
Supplements may only be of assistance if dietary intake is inadequate
If symptoms persist, talk to your health professional
WARNING: If you are pregnant, or considering becoming pregnant, do not take vitamin A supplements without consulting your doctor or pharmacist. When taken in excess of 3000 microgram retinol equivalents, vitamin A can cause birth defects
The recommended daily amount of Vitamin A from all sources is 700 microgram retinol equivalents for women & 900 microgram for men
This product contains selenium which is toxic in high doses. A daily dose of 150 microgram for adults of selenium from dietary supplements should not be exceeded
If you have any pre-existing conditions, or are on any medications always talk to your health professional before use
Blackmores, a leading natural health brand, improves peoples' lives by delivering the world's best natural health solutions, to become peoples' first choice in healthcare. We achieve this by translating our unrivalled heritage and knowledge into innovative, quality branded healthcare solutions that work. Our high quality products, reliable free naturopathic advisory service and award-winning website are among the many reasons Blackmores is the most trusted name in natural health.