Blackmores Triple Action Multi + Omega Caps 60
Supporting overall wellbeing with essential nutrients + Omega-3 fatty acids
A unique triple-action formula that provides essential vitamins and minerals plus Omega-3 fatty acids, in one convenient capsule. It's an easy solution for more complete nutritional support.
Halal Certified.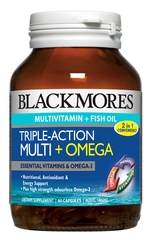 Specials are for online purchases only, don't miss out! -
Email
us to check for availability.
*Nutrients to help cells in the body function at their best
*B vitamins to support energy production
*Antioxidants to help fight free radical damage
*Omega-3 fatty acids (found in fish) which are essential to overall health and wellbeing

Vitamins B1, B2, B3, B6, B12, C and folate are essential to good health and support every cell in the body to perform its job properly. B vitamins are also needed for good metabolism and the release of energy from food.
B vitamins and vitamin C support our nervous system and contribute to wellbeing and a feeling of calm during periods of stress and tension.
Antioxidant vitamins C and E and the mineral zinc help to protect cells from free radical damage. Vitamins C and zinc also play important roles in the immune system and in the maintenance and repair of skin and other tissue.
Omega-3 fatty acids are essential to general health and wellbeing. They support the cardiovascular system and a healthy heart. They promote a healthy brain, to support memory and concentration. Omega-3 fatty acids are often lacking in the average diet because people don't consume enough fish.
Adults - Take 1 twice a day, or as professionally prescribed
Children under 12 years - We recommend Blackmores Kids Multi.
Concentrated Omega-3 triglycerides-fish 500 mg
Docosahexaenoic acid (DHA) 120mg
Eicosapentaenoic acid (EPA) 170mg
Vitamin B1 (Thiamine nitrate) 500ug
Vitamin B2 (Riboflavine) 750ug
Nicotinamide 7.5mg
Vitamin B6 (Pyridoxine hydrochloride) 750ug
Equiv. pyridoxine 617ug
Vitamin B12 (Cyanocobalamin) 1.5ug
Vitamin C (Ascorbic acid) 30mg
Vitamin D3 (Cholecalciferol 5ug) 200 IU
Natural Vitamin E (d-alpha-tocopherol 3.5mg) 5.2IU
Folic acid 200ug
Mixed carotenoids (as Dunaleilla salina (natural source) extract equiv. to fresh cell 72mg) 2.88mg
Calcium 105mg
Phosphorus (as calcium hydrogen phosphate anhydrous 356mg) 81.1mg
Iron (as Ferrous fumarate 15.7mg) 5mg
Zinc (as Zinc sulphate monohydrate 16.6mg) 6mg
Magnesium (as Magnesium oxide-heavy 99.6mg) 60mg
Iodine (as Potassium iodide 98.3ug) 75ug
No added yeast, gluten, wheat, milk derivatives, artificial preservatives, colours, flavours or sweeteners.
*Vitamin supplements should not replace a balanced diet.
*If you are pregnant or breastfeeding consult your healthcare professional before use.
Blackmores, a leading natural health brand, improves peoples' lives by delivering the world's best natural health solutions, to become peoples' first choice in healthcare. We achieve this by translating our unrivalled heritage and knowledge into innovative, quality branded healthcare solutions that work. Our high quality products, reliable free naturopathic advisory service and award-winning website are among the many reasons Blackmores is the most trusted name in natural health.