Blackmores Vitamin D3 1000IU Caps 200
Supporting calcium absorption
Blackmores Vitamin D3 1000 IU supports calcium absorption and utilisation, helping to maintain strong bones. It also helps maintain muscle strength in older people, supporting balance and stability.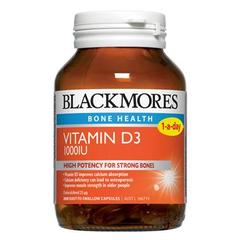 Specials are for online purchases only, don't miss out! -
Email
us to check for availability.
*Supports the absorption of calcium and phosphate, which are essential for strong, healthy bones
*Helps to maintain healthy bone density by providing minerals to the skeleton
*Supports muscle strength in older people, which in turn supports balance and stability
*Contains vitamin D3, which is longer lasting and more effective at raising vitamin D levels in the blood than vitamin D2
*1-a-day dose, high strength 1000 IU

Adequate levels of vitamin D throughout life are important for building and maintaining healthy bone mass, and hence in maintaining bone density and strength.
Vitamin D enhances the absorption and utilisation of calcium from the small intestine and its re-absorption from the kidneys so that it can be absorbed and utilised in the skeleton. It also decreases levels of parathyroid hormone (PTH), which has the effect of limiting the amount of calcium released from the bones.
In older people, vitamin D also supports muscle strength, which in turn supports balance and stability, reducing the likelihood of falling over.
Vitamin D3 is often called the 'sunshine vitamin', because it is manufactured in the skin through the action of sunlight. Small amounts are also obtained from cod liver oil and other food sources, but vitamin D supplements represent an increasingly important source of vitamin D as we get older, because the skin's capacity to produce vitamin D3 declines with age.
A significant number of New Zealanders are at risk of vitamin D deficiency, especially if they have limited exposure to the sun. Identified groups of people at risk include elderly people (particularly those in residential care); Maori, Pacific Islanders and others with dark skin; and veiled women.
Blackmores uses vitamin D3, which is longer lasting and more effective at raising vitamin D levels in the blood than vitamin D2.
Adults - Take 1 capsule a day with a meal, or as professionally prescribed.
Children under 12 years - Only as professionally prescribed.
Vitamin D3 (Cholecalciferol 25mcg) 1000 IU
*Contains sodium sulfite.

Blackmores, a leading natural health brand, improves peoples' lives by delivering the world's best natural health solutions, to become peoples' first choice in healthcare. We achieve this by translating our unrivalled heritage and knowledge into innovative, quality branded healthcare solutions that work. Our high quality products, reliable free naturopathic advisory service and award-winning website are among the many reasons Blackmores is the most trusted name in natural health.