Bragg Organic Raw Apple Cider Vinegar 473ml
Bragg Organic Raw Apple Cider Vinegar is made from the finest, delicious, healthy, organically grown apples. Raw apple cider vinegar is full of zesty natural goodness and contains the amazing "mother" of vinegar which occurs naturally as connected strand-like chains of protein enzyme molecules and is highly regarded throughout history. Many medical studies show the health benefits of Apple cider vinegar. In 400 BC Hippocrates, the father of medicine, used it for its amazing natural cleansing, healing and energizing health qualities.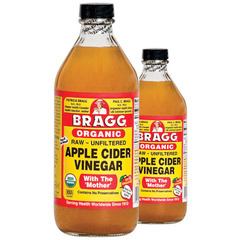 Specials are for online purchases only, don't miss out! -
Email
us to check for availability.
It's a wholesome way to add a delicious flavour to most foods, salads, veggies and even sprinkle over popcorn. Great as a daily tonic and to aid digestion. Apple cider vinegar contains the healthy goodness of apples, concentrated into a teaspoon of golden liquid. It is packed with essential amino acids and healthful enzymes. And so it comes as no surprise that some people have claimed this natural storehouse of vitamins and minerals will help with a very wide variety of health ailments. Apple cider vinegar is very similar to the chemicals found naturally in the stomach. Because of this, it has traditionally been hailed as an aid to digestion. And so, by improving digestion, it is felt it will improve the overall metabolism of the body. This product is also Kosher Certified. Apple Cider Vinegar has been highly regarded throughout history. In 400 B.C. the great Hippocrates, father of medicine, used it for its amazing cleansing, healing and energising health qualities.
Add 1 to 2 tblsp (15 - 30mls) to 100mls of tepid water, sipped at protein meals. Or, you could try these following suggestions; To stay healthy and alert, well into old age, combine 1 teaspoon of ACV, 1 teaspoon of honey in a full glass of water. Take this tonic 3 times a day, ½ an hour before meals. A palatable way to take a daily dose of ACV is to add a small dollop of manuka honey to a tablespoon of ACV and a teaspoon of olive oil. Mix it together and drip this dressing over a small bowl of salad greens.
Bragg Vinegar Health Drink. 1 to 2 tsp of Bragg Organic Vinegar 10 a glass of purified water and (optional) to taste 1 to 2 tsp honey, 100% maple syrup or a little stevia.
As ACV is similar in composition to hydrochloric acid, the substance involved with the break down of proteins and meats from the food you eat. You can help support digestion by mixing 1 tablespoon of ACV with 100ml of tepid water and sip at main meals.
Certified Bragg Organic Raw Apple Cider Vinegar and purified water. This vinegar is unfiltered, unheated, unpasteurised and 5 % acidity. Contains the amazing "Mother" of Vinegar which occurs naturally as strand like chains of connected protein molecules. Refrigeration is not needed.
If sediment occurs, shake before using.
Keep out of reach of Children.