Carmex Moisturising Lip Balm 7.5g Jar
Want soft kissable lips? Carmex lip balm restores the moisture that wind and dry, cold air can suck right out of your lips. One of the moisturizing ingredients in Carmex lip balm is cocoa butter, a natural emollient. You're exposed almost every day to elements that can suck your lips dry. Without their natural moisture, your lips become irritated. Help protect your lips-the most fragile skin on your body-just by smoothing on a little Carmex lip balm.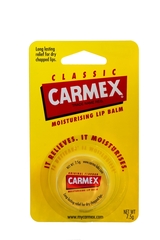 Specials are for online purchases only, don't miss out! -
Email
us to check for availability.
Carmex adds natural emollients to your lips, while locking in your own body's moisture to Help protect against chapping and cracking. Lanolin, for example, is a natural substance that locks in moisture. The lanolin in Carmex is easily absorbed into the delicate skin of your lips, where it provides a temporary barrier against the drying effects of wind, heat and cold.

Carmex lip balm is packed with ingredients specially selected to Help heal your chapped, cracked, burned and otherwise abused lips. Menthol and phenol, for example, both have antiseptic qualities, Helping to speed healing by killing germs. And if you suffer from painful fever blisters, you'll be glad to know that Carmex Helps relieve the symptoms of cold sores.

What causes chapped lips?
Lips get chapped because they're too dry, usually because of exposure to the elements including dry air, wind, sun, cold temperatures and even dust.
Licking your lips when they are dry just makes them more chapped. Dehydration or allergies can also cause lip chapping.

It comes in its original lip-tingling formula uses germ-killing menthol and phenol, speeding the healing process. It Relieves the symptoms of chapped lips and cold sores and is
Non-addictive and not tested on animals
Apply liberally and evenly as often as required.
Beeswax, cetyl esters, flavor, fragrance, lanolin, paraffin, petrolatum, salicylic acid and theobroma cacao(cocoa) seed butter.