Cartia 100mg 84 tablets
If you've had a heart attack or stroke your doctor may have told you about the benefits of taking a low dose aspirin such as Cartia. This is because low dose aspirin helps thin the blood, and has been proven to help lower the risk of another heart attack or stroke.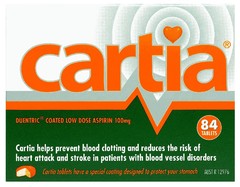 Specials are for online purchases only, don't miss out! -
Email
us to check for availability.
Cartia low dose aspirin has a special Duentric coating designed to prevent it from being released in the stomach, so that it is released lower in the intestine. By releasing aspirin lower in the intestine, Cartia helps to minimise irritation to the stomach lining.
Enteric coated so they do not irritate the stomach.