Centrum Advance 50+ 60 tablets
A specially adjusted multivitamin and mineral supplement to help support the changing nutritional needs of adults 50 years and over. We all know our nutritional needs change as we get older, that's why Centrum Advance 50+ is specially developed to support your changing nutritional needs. Centrum Advance 50+ is designed to give your body the right nutrients at the right levels as you get older to help fill nutritional gaps in your diet. With the added benefit of Lutein for healthy eyes, and Lycopene for a healthy heart, Centrum Advance 50+ is complete from A to Zinc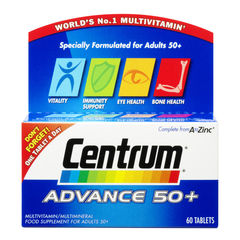 Specials are for online purchases only, don't miss out! -
Email
us to check for availability.
Compared to Centrum Advance, it contains increased levels of selected vitamins such as some B group vitamins for energy, and antioxidants such as Vitamin E to help support immunity. Centrum Advance 50+ is also a source of calcium. Adequate dietary calcium helps to maintain bone health which is important as we get older Centrum Advance 50+ Benefits Energy With B group vitamins including folic acid to help support daily energy. Healthy Skin Vitamin A, C and Biotin to help maintain healthy skin. Bone Health Calcium, Vitamin D, Magnesium, Copper, Zinc and Magnesium to help maintain healthy bones. Immunity Key antioxidants such as VItamin A, C and E, Betacarotene, Zinc and Selenium to help strengthen immunity. Healthy Eyesight Now with Lutein and Vitamin A to help support healthy eyes. Healthy Heart Now with Lycopene, Vitamin B6 and Folic Acid to help maintain a healthy heart.
Adults: Take one Centrum Advance 50+ tablet daily with water
Free From Gluten Free From Wheat Free From Yeast Dicalcium Phosphate Magnesium Oxide Vitamin C Bulking Agents: E460, E464 Potassium Chloride Gelatin Stabiliser E1202 Niacinamide Starch Vitamin E Sucrose Calcium-D-Pantothenate Ferrous Fumarate Zinc Oxide Anti Caking Agent E551 Manganese Sulfate Beta-Carotene Vitamin B6 Vitamin B1 Vitamin B2 Lutein Cupric Sulfate Emulsifiers E570, E470, E433 Vitamin A Folic Acid Modified Starch Lactose (from Milk) Chromium Chloride Sodium Molybdate Potassium Iodide Biotin Sodium Selenate Vitamin K Hydrogenated Vegetable Oil Vitamin D Vitamin B12 Colourants E110, E129, E132, E171
Keep out of reach of children. Do not exceed stated dose. Do not take if you are pregnant or breastfeeding. If you are taking any prescribed medicines, please read the label, since they may contain the same ingredients. Consult your doctor or pharmacist if you have an underlying medical condition, are taking any other medication or complementary therapy, or if symptoms persist. Seek advice before using if you are breast feeding, pregnant, planning to become pregnant, or suffer from allergies. This product contains iron, which, if taken in excess, may be harmful to young children. This is a food supplement, it should not be used as a substitute for a varied diet.