Centrum Advance Multi 100 tablets
We don't always eat the right foods or a balanced diet but we still need our body to function at its best every day. That's why Centrum Advance is a complete multivitamin and mineral supplement that is developed to give your body the right nutrients at the right levels to help fill nutritional gaps in your diet. Now with increased levels of essential Vitamins and Minerals and also with the added benefit of Lutein for healthy eyes, and Lycopene for a healthy heart. Centrum Advance the complete one-a-day formula. Complete from A to Zinc.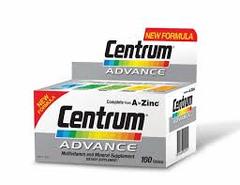 Specials are for online purchases only, don't miss out! -
Email
us to check for availability.
Centrum Advance contains many of the essential vitamins and minerals to help support multiple health benefits. B group vitamins help support daily energy needs, key antioxidants help support a healthy immune function and vitamins A, C and Biotin help support healthy skin. Centrum Advance Benefits: Energy With B group vitamins including folic acid to help support daily energy. Healthy Skin Vitamin A, C and Biotin to help maintain healthy skin. Bone Health Calcium, Vitamin D, Magnesium, Copper, Zinc and Magnesium to help maintain healthy bones. Immunity Key antioxidants such as VItamin A, C and E, Betacarotene, Zinc and Selenium to help strengthen immunity. Healthy Eyesight Now with Lutein and Vitamin A to help support healthy eyes. Healthy Heart Now with Lycopene, Vitamin B6 and Folic Acid to help maintain a healthy heart.
Adults: Take one Centrum Advance tablet daily with water
Dicalcium Phosphate; Magnesium Oxide; Bulking agents E464; Vitamin C; Potassium Chloride; Gelatin; Stabiliser E1202; Niacinamide; Vitamin E; Starch; Ferrous Fumerate; Calcium-D-Pantothenate; Sucrose; Zinc Oxide; Manganese Sulfate; Vitamin B6; Vitamin B1; Vitamin B2; Beta-Carotene; Cupric Sulfate; Vitamin A; Emulsifiers E570, E433; Lutein; Modified starch; Lactose (from milk); Folic acid; Chromium Chloride; Sodium Molyvdate; Potassium Iodided; Anti caking agent E551; Sodium Selenate; Biotin; Vitamin K; Vitamin D; Vitamin B12; Colourants E132, E17. Energy, protein, carbohydrate, sugar and fat content neglible. Free from azo-dyes, gluten, wheat and yeast.
Please read the product packaging before use. Seek professional advice before using if you are pregnant, breastfeeding or suffer from allergies. Consult your doctor or pharmacist if you suffer from an underlying medical condition (for example, diabetes, epilepsy), or if you are taking any other medication or complementary therapy. Contains peanuts