Centrum for Men 50+ 60's
Experiencing the great outdoors, discovering the world, engaging in new intellectual pursuits... hitting 50 or 60 does not always mean slowing down, although your body may say otherwise. Why not try Centrum Men 50+, a multivitamin which supports the changing nutritional needs of Men over 50?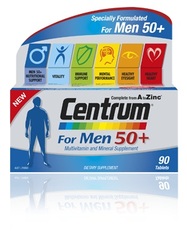 Specials are for online purchases only, don't miss out! -
Email
us to check for availability.
Why Choose Centrum Men 50+? Complete multivitamin: Centrum Men 50+ contains 24 key nutrients including all 13 essential vitamins. Supports vitality, immunity and contributes to normal vision & heart health The world's no.1 multivitamin Backed by 30 years of nutritional expertise and proven science
Dose - Take one tablet daily with water, preferably with food.
Each Tablet Contains: Quantity % EU RDA Vitamin A (RE) (50% as Beta-Carotene) 800 ?g 100 % Vitamin E (? - TE) 18 mg 150 % Vitamin C 120 mg 150 % Vitamin K 30 ?g 40 % Vitamin B1 (Thiamin) 1.65 mg 150 % Vitamin B2 (Riboflavin) 2.1 mg 150 % Vitamin B6 2.1 mg 150 % Vitamin B12 7.5 ?g 300 % Vitamin D 10 ?g 200 % Biotin 75 ?g 150 % Folic Acid 300 ?g 150 % Niacin (NE) 24 mg 150 % Pantothenic Acid 9 mg 150 % Iron 2.1 mg 15 % Calcium 200 mg 25 % Iodine 100 ?g 67 % Copper 500 ?g 50 % Manganese 2 mg 100 % Magnesium 135 mg 36 % Phosphorus 105 mg 15 % Chromium 40 ?g 100 % Molybdenum 50 ?g 100 % Selenium 30 ?g 55 % Zinc